Sept. 24th-28th is National DMV Appreciation Week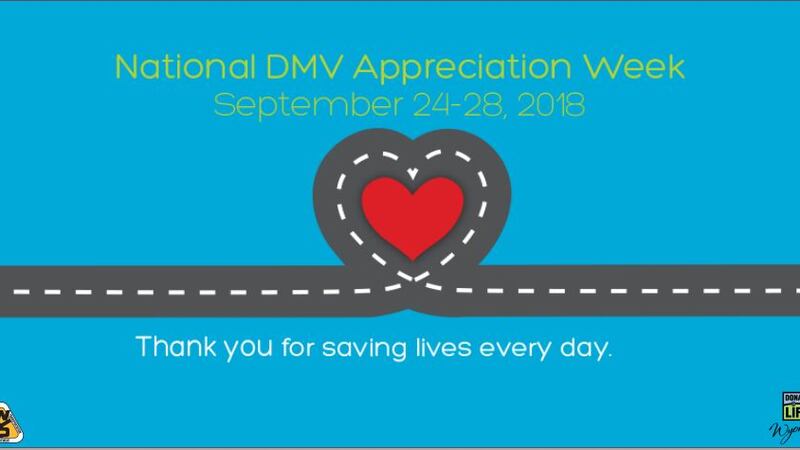 Published: Sep. 24, 2018 at 2:05 PM CDT
National DMV Appreciation Week is a time to recognize and thank the Department of Motor Vehicles (DMV) Driver License offices in Colorado and Driver Services partners in Wyoming for their commitment to supporting Donor Alliance's mission to save lives through organ and tissue donation and transplantation.
According to Donate Life America, "More than 95 percent of donor registrations come through DMV and driver license transactions." In Colorado and Wyoming, that amounts to the question, "Would you like to register as an organ, eye and tissue donor?" being asked about 1.5 million times each year. Donor Alliance greatly values our partnerships with the DMV and Driver Services. Through training and provision of educational materials to all offices as well as participation in National Donate Life month in April, the DMV and Driver Services work with Donor Alliance to educate and inspire the public to register every day.
During the week of September 24-28, Donor Alliance will be showing appreciation of our Driver License Partners by saying thank you to the hard-working staff and leadership through local events and outreach. Please take the opportunity to reach out to your local Driver License office and thank them! To find the location nearest you, click here for Colorado and here for Wyoming. You may also consider posting a positive comment on their social media pages: facebook- @ColoradoRevenue @WyomingDeptofTransportation (please mention Driver Services); twitter- @CO_Revenue
To register your decision to become an organ, eye and tissue donor, go to Donate Life Colorado or Donate Life Wyoming.