Montana students get a once-in-a-lifetime opportunity to help NASA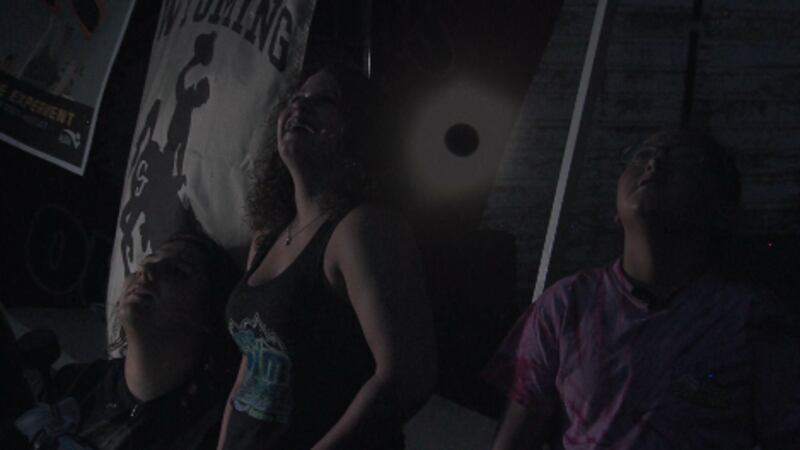 Published: Aug. 22, 2017 at 7:15 PM CDT
A small group of students from Montana experienced a big once-in-a-lifetime opportunity to help gather data for NASA during the total solar eclipse Monday, August 21.
15-Year-old Elliott Iwen, 16-year-old Reba Doucette and 13-year-old Alexus Cochrin were a part of a small group of students from Montana who participated in the Citizen CATE project. The group was one of 68 across the nation taking photographs of the sun's corona during the total solar eclipse.
Each group was given an identical telescope for a continuous 90-minute time-lapse of the sun's corona. Leader of the Citizen CATE project and Solar astronomer at the National Solar Observatory in Tucson, Arizona, Matt Penn, said, "No one has taken a 90-minute sequence of this part of the solar atmosphere before."
Former principal in Montana, Janet Jorgensen, helped make the opportunity possible for the students in Harlem High School in Harlem, Montana. Jorgensen now lives in Saratoga, Wyoming and teaches science, but spent two years working to make the project possible for her students back in Harlem. She said although the school is not on a reservation, she added, "Our student population is about 98% Native American."
Harlem High math teacher, Eleanore Doucette, said she was thrilled once they found out their school was chosen to be a part of the 68 groups. Doucette said the opportunity was huge for Harlem and added, "This is something that doesn't normally happen and the opportunity is rare for them." Doucette says the goal was to provide an opportunity, get the students involved and participating, and spark an interest that would benefit their future.
Doucette invited her daughter, Reba from Malta High School, to be a part of this big moment. Reba admitted to getting emotional during the event and added, "I wasn't actually ridiculously excited, I was just kind of like, 'Yeah, whatever.' But now that I've seen it, it's big." She said she got chills, and not just from the temperature dropping, but because of the sight above her.
The students looked at the images after the almost two-minute event and were satisfied, as well as excited, by their results.
"It felt like 50 seconds. It didn't even feel that long. It went by so quick." Those were the words from Elliot after the short event. He added, "It goes on my record and helps me get into college."
Elliot hopes to be an astronomer or geologist, Alexus plans to one day be a nurse, and Reba hopes to be an engineer- all have big goals for their future.