Denver museum receives 6,000 dinosaur bones from Wyoming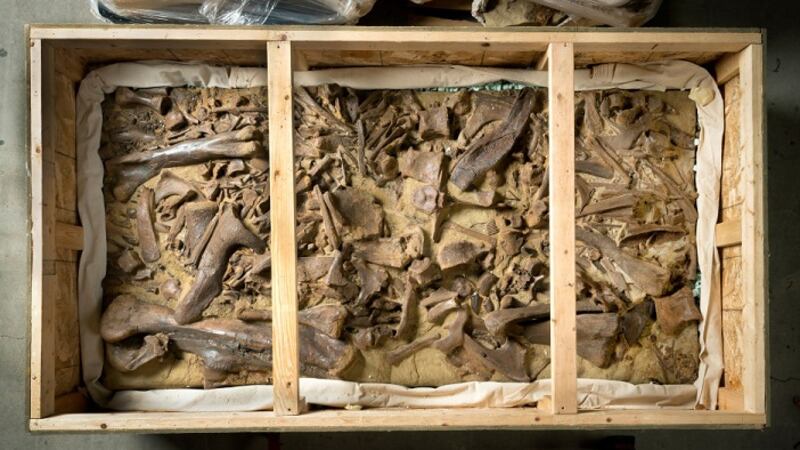 Published: Nov. 29, 2017 at 1:11 PM CST
The Denver Museum of Nature & Science received its largest-ever donation of dinosaur fossils this month, more than 6,000 bones of Edmontosaurus from eastern Wyoming.
The collection, assembled during several years of excavations by the Hankla family of Danville, Ky., includes skulls, vertebrae, and limbs from dinosaurs of varying ages.
"These fossils are spectacular!" said Joe Sertich, curator of dinosaurs at the Museum. "The donation is one of the largest collections of dinosaur bones from a single bone bed and includes skulls and other remains from dozens of individuals. It will allow us to study how dinosaurs changed as they grew and how they varied within a single population."
Edmontosaurus was a duck-billed dinosaur, or hadrosaur, that lived in western North America at the end of the Cretaceous Period between 68 and 66 million years ago. They were herbivores that grew to more than of 40 feet long. The fossils in this donation came from a massive bone bed, where the animals were likely buried by a sudden flood event in eastern Wyoming nearly 67 million years ago. The fossils were collected from privately owned land. Many fossils from this region can disappear on the commercial market, scattered to collectors around the world.
"I am proud and excited to see these fossils end up at a major research institution like the Denver Museum of Nature & Science," said John Hankla, one of the donors. "Hopefully they can be used to inspire future scientists and can lead to significant scientific research on dinosaur growth and behavior."
The fossils join others at the Museum in what is rapidly becoming one of the best Cretaceous dinosaur fossil collections in the country, including specimens recently recovered from Montana, North and South Dakota, New Mexico, Utah, and metro Denver.
Many of the fossils will require careful preparation in the Museum's labs for both research and future programs and exhibits. Several spectacular blocks of bones and teeth will be on display at the Dinosaur Gulch play area at Cherry Creek Shopping Center on Dec. 2. And through Jan. 15, the Museum is hosting the traveling exhibition Ultimate Dinosaurs, which includes a Fossil Prep Lab where guests can try out fossil preparation techniques.