2023 visits to Yellowstone near 4.5 million, 2nd most visited year all-time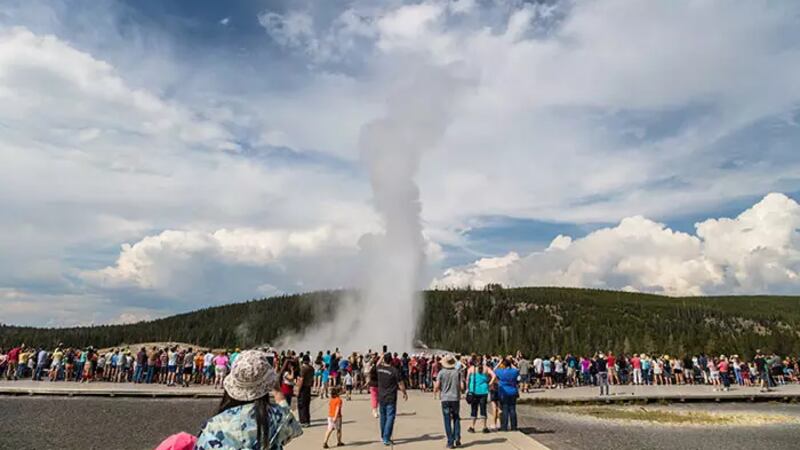 Published: Nov. 14, 2023 at 11:53 AM CST
CHEYENNE, Wyo. (Wyoming News Now) - Visits to Yellowstone are booming once again.
According to a release from Yellowstone National Park, 2023′s total visits to YNP rose past 4.4 million in October after more than 299,000 people entered the park last month. The current recorded number sits at 4,446,509 total visits this year.
That number was good enough to clinch the second most visits in a year for YNP, eclipsing the mark set in 2016 which saw over 4.2 million people.
The all-time record for visits in a year was set in 2021 after over 4.8 million people visited Yellowstone, a sure indication of just how travel-starved many were after the COVID-beleaguered 2020.
This year's total visits could potentially cross 4.5 million, but the park will need to see a little more than 53,000 visits in November and December. It's a very reasonable number to hope for especially considering late-year visits have held steady the last four years. Total visits in November and December have averaged 53,320 between 2019 and 2022.
Obviously, this year won't manage to topple 2021′s record, but it likely won't be long till one year does. Throughout the decades, Yellowstone's growth has been fairly reliable. Yearly visits first crossed 1 million in 1948, 2 million in 1965, 3 million in 1992 and 4 million in 2015.
So, it takes about 22 years to see annual visits increase by a million. If that number holds, Yellowstone will see 5 million sightseers by 2037.
That's a lot of tourists.
More information on visitation statistics can be found here.
Copyright 2023 KGWN. All rights reserved.