Union Pacific gives Laramie County College $300,000 grant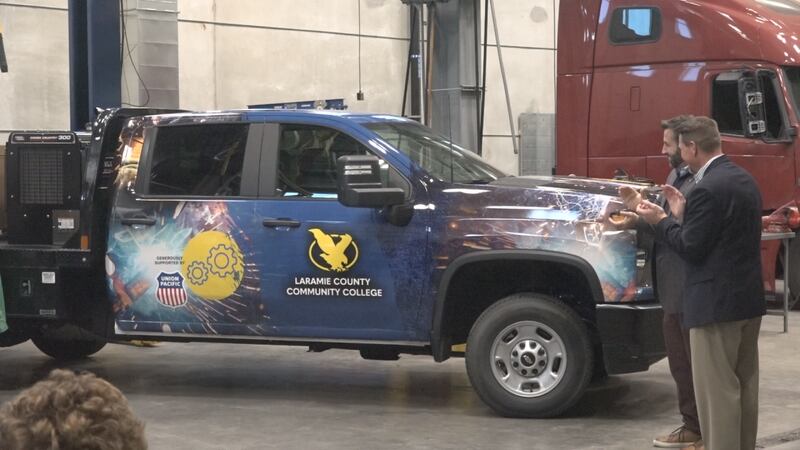 Published: Nov. 13, 2023 at 5:35 PM CST
CHEYENNE, Wyo. (Wyoming News Now) - On November 13th, Laramie County Community College celebrated a $300,000 grant from Union Pacific for their welding and diesel programs.
"LCCC and up have had a long history of partnerships, they've had a deep partnership with the college for more than 30 years. but today we're celebrating the most recent partnership, and its a significant investment by up into two of our most prominent trade programs; our welding metals program, and our diesel technology program," said Joe Schaeffer, President of LCCC.
Union Pacific railroad has partnered with to give a new grant, totaling in $300,000 over the next three years. "Union Pacific has a foundation and we do community ties giving, and we want to be engaged in the 7,000 plus communities we operate across our network. Laramie County Community College and Union Pacific have worked really hard to develop this program, we're enhancing and growing the welding program, enhancing and growing the diesel mechanic program. Those are two areas of skilled trades that Union Pacific is always looking to hire," said Nathan Anderson, Senior Director of Public Affairs for Union Pacific.
The grant will go towards new equipment, program recruitment, program expansion, and community engagement. "Its only through industry partners that we're able to continue to sustain the level of quality that we have here. UP has been one of those partners, they stepped in in helping us with mobile technology, and welding labs with funding for different program aspects and for some of the community based programs that allow us to reach into high schools to look at the next generation of students to come through," said Schaeffer.
The partnership is mutually beneficial as it assists by fulfilling career track jobs. "A great opportunity for us to take what we're doing and grow it and keep looking for opportunities to partner," said Anderson.
"LCCC is incredibly appreciative of the partnership that we have with up and so many other business partners, this is just another great example to demonstrate how those partnerships are really benefitting the folks that continue to live and work here in Wyoming," said Schaeffer.
Copyright 2023 KGWN. All rights reserved.