2023 State High School Volleyball Day 3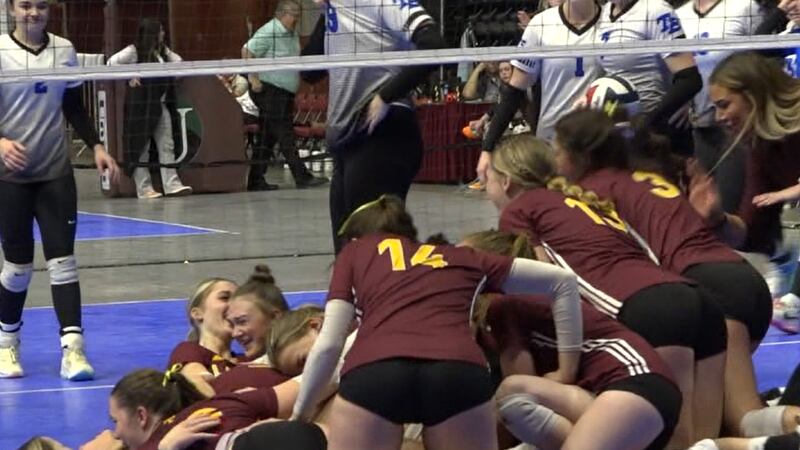 Published: Nov. 5, 2023 at 12:04 AM CDT
CASPER, Wyo. (Wyoming News Now) - After what felt like the blink of an eye, the high school volleyball season ended today and we now have our 2023 High School State Volleyball Champions. A couple of viewing area teams managed to fight their way all the way to the finals for a chance to bring home the hardware.
Laramie was looking for their third state title in four seasons, while Thunder Basin was looking for their first ever in their young history. Both 4A teams battled their way into the finals finishing their semi finals in 5 sets, and they were ready to lay it all on the line. The Lady T-Bolts got the upper hand against the Lady Plainsmen in the first set with a 5 point lead, but Laramie rose to the occasion and made the come back to take the first. They kept the momentum going as they also took the second set in dominating fashion as they found themselves one set away from winning the State Title. Thunder Basin though battled back, in a close third set with their season on the line they fought their way back to pull within 1. The fourth set was also as close as it gets, but the Lady T-Bolts refused to back down and forced the fifth set. Thunder Basin got the early 3-0 lead, but the Lady Plainsmen pulled together and found their grove as they closed it out 15-11 winning their 4th ever state title.
Burns and Big Horn were all too familiar with this situation, as the Lady Broncs took down the Lady Rams in the 2A State Championship last year and they meet once again with the title on the line. Burns got it going in the first set, as they were able to go up 1-0 on Big Horn. The Lady Rams however were not going to allow another title slip away. They put on a master class in the second set taking it 25-11 and just like that they were evened up. They continued to get into their groove and once again took another set by double digits and were only one more away from the state championship. Burns fought as hard as they could in the fourth set, but it wasn't enough as Big Horn took the final set 25-20 and won their second title in three years.
Here are the other scores from the final day of action:
4A:
Consolation: Cody 3 Campbell County 1
Consolation: Kelly Walsh 3 Star Valley 1
3rd place: Cody 3 Kelly Walsh 1
3A:
Consolation: Douglas 3 Wheatland 0
Consolation: Lyman 3 Buffalo 1
3rd Place: Lyman 3 Douglas 2
State Finals: Mountain View 3 Powell 1
2A:
Consolation: Pine Bluffs 3 Rocky Mountain 0
Consolation: Tongue River 3 Shoshoni 0
3rd Place: Tongue River 3 Pine Bluffs 2
1A:
Consolation: Southeast 3 Hulett 1
Consolation: Upton 3 Burlington 0
3rd Place: Upton 3 Southeast 1
State Finals: Cokeville 3 Little Snake River 0
Copyright 2023 KGWN. All rights reserved.