Winter is coming, are you prepared to go out on the ice?
As winter approaches, Natrona County Sheriff's office reminds folks to stay safe out on the ice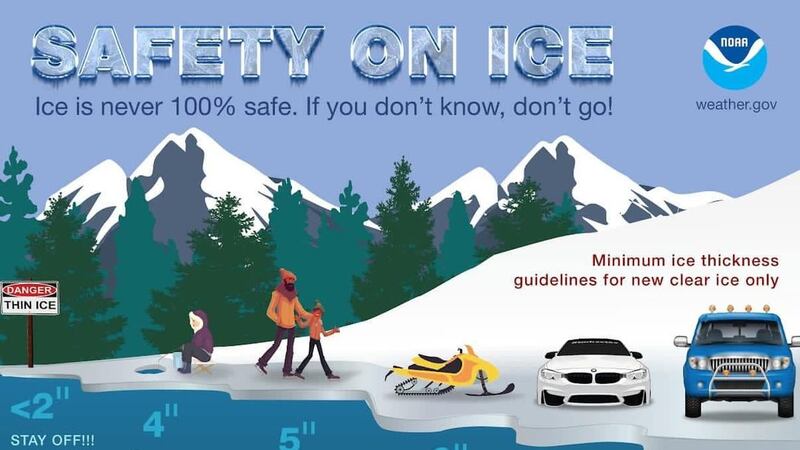 Published: Nov. 3, 2023 at 4:28 PM CDT
CASPER, Wyo. (Wyoming News Now) - Winter is just a few short weeks away. Before we know it it'll be time to go play in the snow and enjoy the great outdoors. If you plan to go out on the ice this winter, you'll need to be careful and make sure it's safe.
The Natrona County Sheriff's public information officer, Kiera Grogan, says, "Especially with Alcova and Pathfinder Lake, the integrity of that ice changes pretty frequently, even up to late January or early February. We always want to warn citizens and visitors to ensure that they are checking the integrity of the ice before they go out, make sure they're being safe and take precautions such as taking life vests with them, dressing in layers, things of that sort."
For ice fishing, ice skating or walking, the ice must be at least four inches thick. For cars and pick-up trucks, it should be at least eight to ten inches thick. Be sure to stay off the ice if it's less than two inches. Sometimes ice on bodies of water can be deceiving. It may look thick enough, but that doesn't mean it's safe. The Natrona County Sheriff's office recommends testing the ice before venturing out.
Grogan says, "You can test the thickness of the ice yourself using a quarter inch ice pick or even using a drill and drilling into the ice and ensuring that that ice is as thick as it may appear to your regular eye."
More information about winter and ice safety, visit the NOAA website.
Copyright 2023 KGWN. All rights reserved.