New Cheyenne Big Boot at F.E. Warren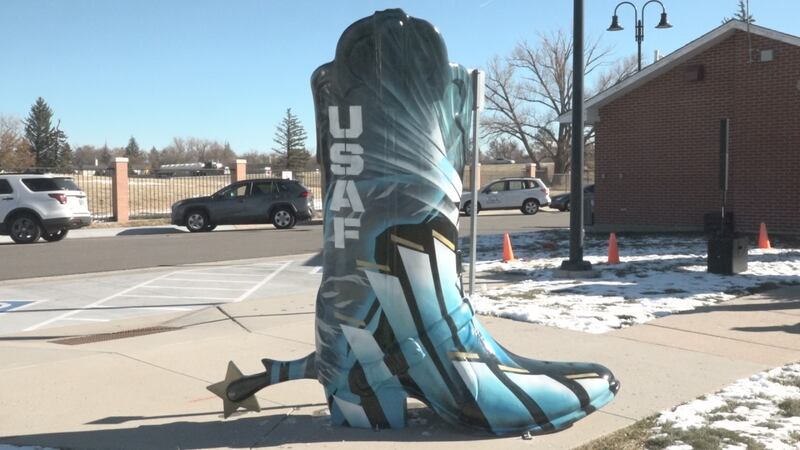 Published: Nov. 1, 2023 at 10:54 AM CDT
CHEYENNE, Wyo. (Wyoming News Now) - Air Force Base F.E. Warren officially has their very own Cheyenne big boot.
"We're out here today to dedicate the boot you can see behind me, its part of Leadership Cheyenne which is a chamber of commerce program that brings leaders from all over the community together including the base, to learn about each other, to learn about the community, and learn about how to better serve the Cheyenne community," said Col. John Schantz, 90th Maintenance Group Commander.
The 8 foot tall painted cowboy boots are placed all throughout Cheyenne. "This boot from our Leadership Cheyenne class is just a token of our appreciation to show that F.E. Warren is not only a part of our community, but they are part of the leadership of our community, of our state, and our nation as we move forward," said Dale Steenbergen, President of Greater Cheyenne Chamber of Commerce.
The boot was sponsored by the Chamber of Commerce's 2020-2021 leadership class. "They put on a fundraiser, and then they'll do a service project, so this boot that you can see is from the 2020-2021 class, its their service project, its part of the boots that are all over Cheyenne, and this one is now finished and installed here at the base for people to see," said Col. Schantz.
The iconic symbol helps display the base and city's deep roots that they share. "The base is a huge part of the community, it's really important to us here on the base to integrate with the community and share our experiences and learn about the experiences of the folks here in Cheyenne, so by putting this boot here, its just another tie in to the community," said Col. Schantz.
So head out to the base to checkout the newest boot in the collection.
Copyright 2023 KGWN. All rights reserved.