Snow Comes to an End but Cold Weather Continues
Published: Oct. 28, 2023 at 7:46 PM CDT
CHEYENNE, Wyo. (Wyoming News Now) - Although the calendar days it is fall, the weather says otherwise for many of us. Snow will be possible into southeast Wyoming, northern Colorado and the Nebraska panhandle.
A winter weather advisory continues until 12 PM Sunday for parts of southeast Wyoming and northern Colorado, including Centennial, Albany, Buford, Pumpkin Vine, Vedauwoo, Whitaker, Federal, Cheyenne, Sidney, Horse Creek, Fort Collins, Greeley, Limon, and Sterling. Winter Storm Warnings continue until 12 PM Sunday for parts of North Central Colorado west of I-25.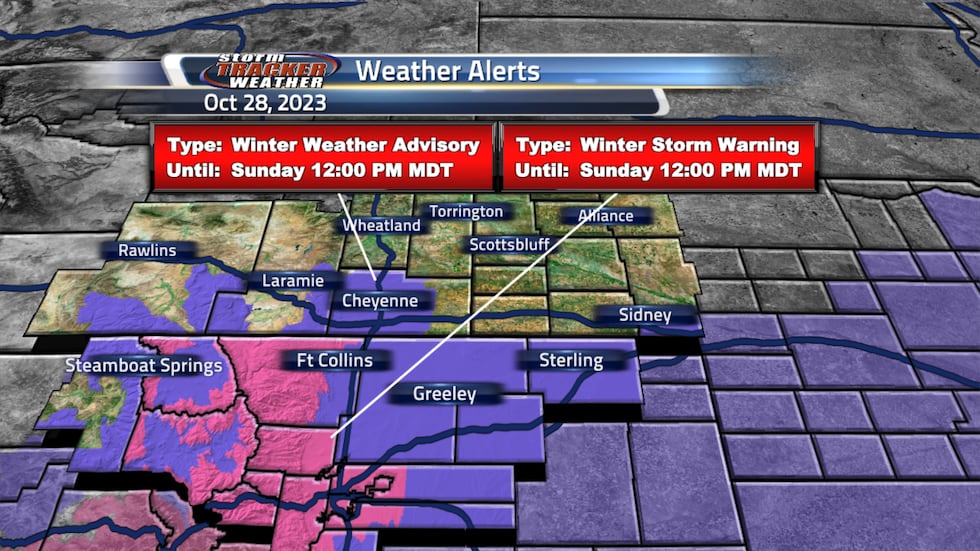 Additional light to moderate snow will be possible this evening and possibly into the early overnight. Snow accumulations could approach 1-2 inches in some areas. Higher totals into northern Colorado. We may even see some light snow accumulations in parts of northern Wyoming.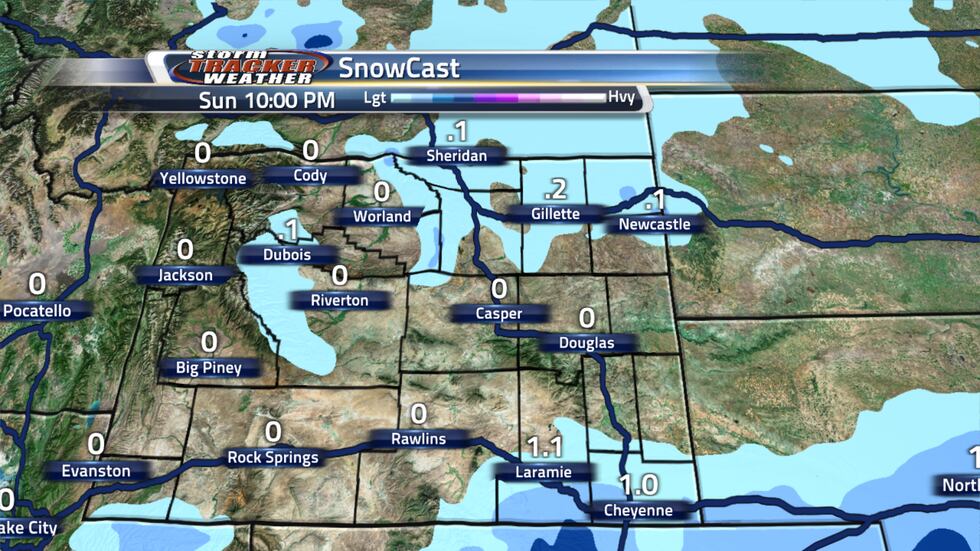 Temperatures around the state tonight will be on the cold side. Lows will range from near zero to the teens across the area. We could see temperatures in the highest elevations below zero at times overnight. Make sure to bundle up if you have to be out tonight!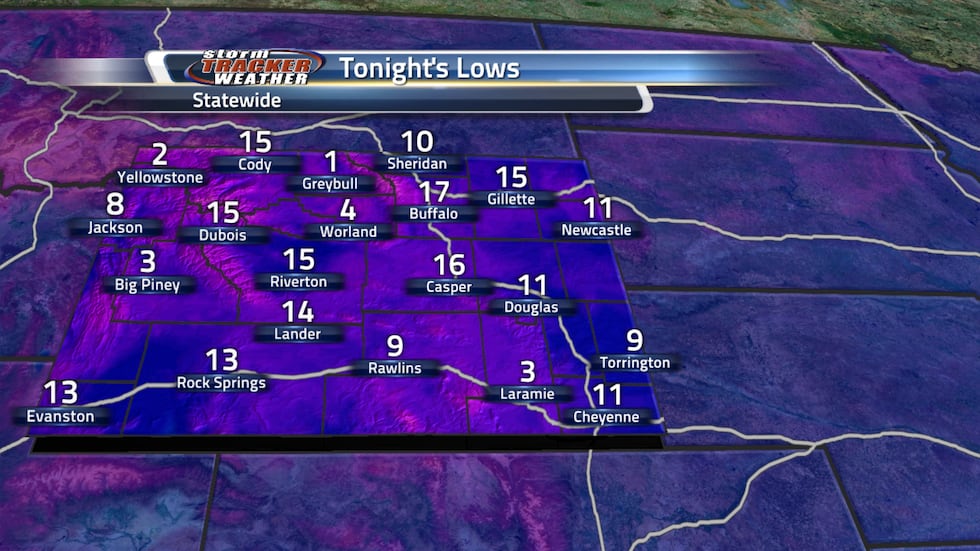 As we head into Sunday, we will still be cold, but not as cold as we were today. We will start off with clouds, followed by breaks in the clouds and increasing sunshine. Once we see the sunshine, we will see temperatures warm up a bit more during the day. Highs will be into the 20s and 30s across the area.
Extended Forecast for Cheyenne - We will finally see sunshine return for the area as we start the new work week. A change in our wind direction will allow for warmer air to move in. This will result in a warm up for our area. In fact, by the end of the week we will be seeing above normal temperatures. We do stay dry for the next week or so.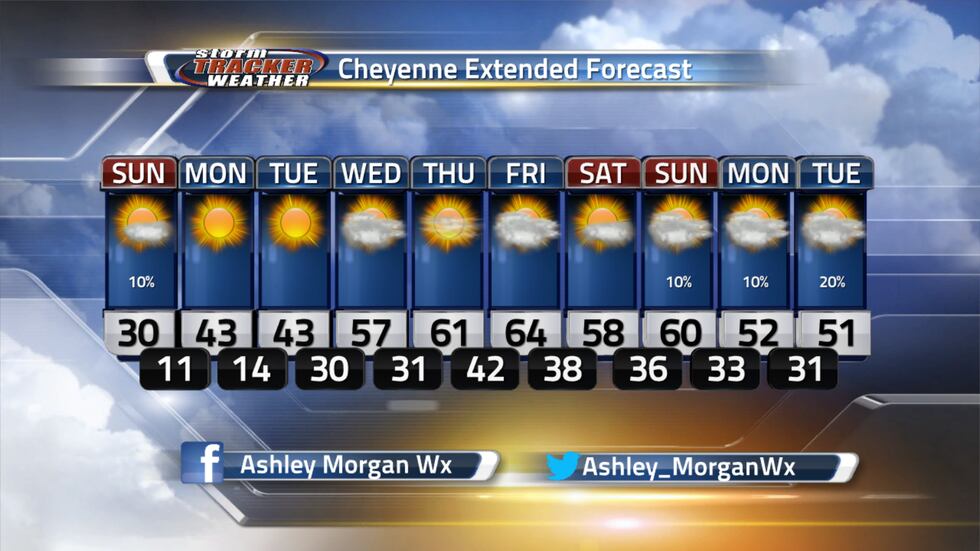 Extended Forecast for Casper - We will finally see sunshine return to the area as we start the work week. Although we could see increasing clouds for much of the work week, we will stay dry. Temperatures will gradually warm all the way up into the 60s as we close out the work week.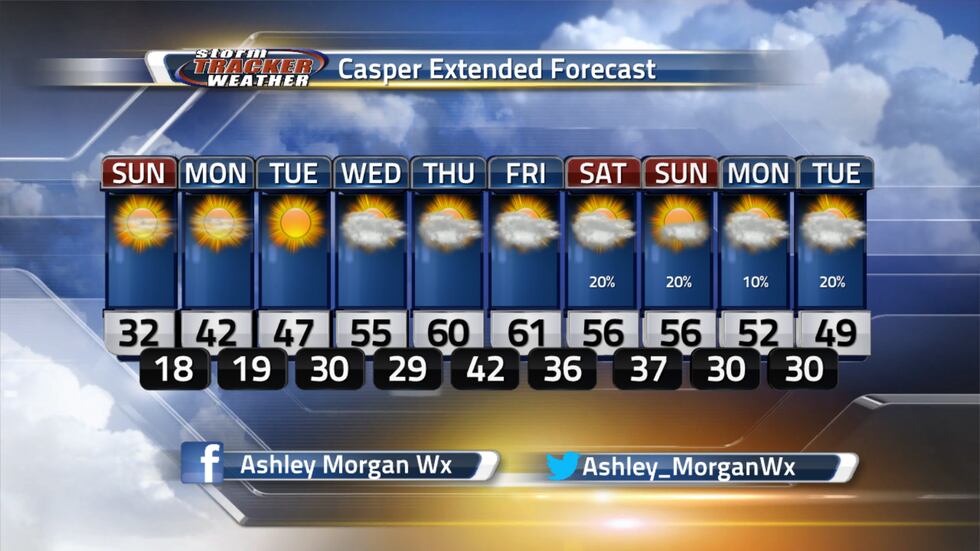 Copyright 2023 KGWN. All rights reserved.