Food Bank of Wyoming receives 12,500 potatoes to distribute statewide
Potatoes grown by the UW Sustainable Agriculture Research Extension Program have made their way on to dinner plates across the Cowboy State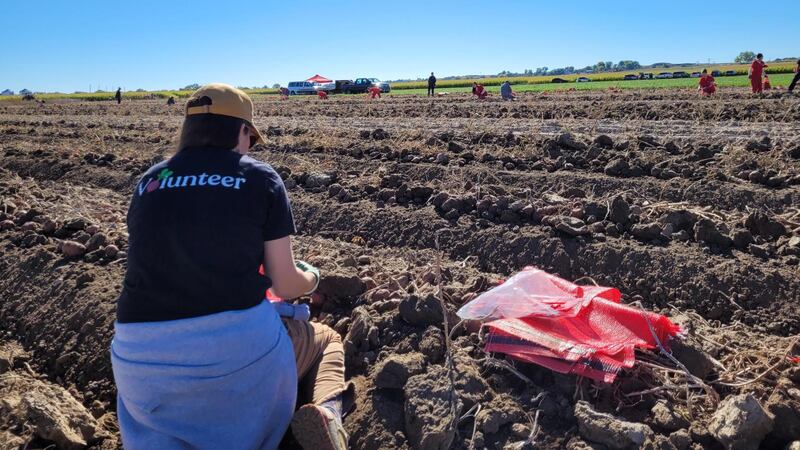 Published: Oct. 24, 2023 at 4:17 PM CDT
CASPER, Wyo. (Wyoming News Now) - It's harvest season in Wyoming and local organizations are partnering up to distribute locally sourced vegetables to families across the state. Earlier this month, the University of Wyoming Sustainable Agriculture Research Extension Program and the Cent$ible Nutrition Program harvested over 12,500 pounds of potatoes to donate to the Food Bank of Wyoming.
Rachel Bailey, the executive director of the Food Bank of Wyoming, says, "It's such an incredible partnership of local resources, local people and their time, and then our distribution network that is able to get it across the state and on to people's tables for dinner."
The UW Sustainable Agriculture Research team planted and grew the potatoes and Cent$ible Nutrition helped coordinate the volunteer efforts to harvest them. The food bank has already distributed the potatoes to families in all four corners of Wyoming.
The fall season is when folks begin to harvest fruits and veggies from their farms and gardens. If you find yourself with a surplus this year, consider donating extra produce to your local food pantry or the food bank.
Bailey says, "What we encourage people to do is if you have extra, donate it to your local food pantry, or if you have a lot extra, like 12,000 pounds of potatoes, please call the food bank. We can come and pick it up and make it available to a lot of people."
More information on finding food or how to support the Food Bank of Wyoming is available on their website.
Copyright 2023 KGWN. All rights reserved.