Creativity Camp shows Casper students the potential of combining arts and technology
Casper youth had the chance to see how arts and sciences are able to combine at Saturday's Creativity Camp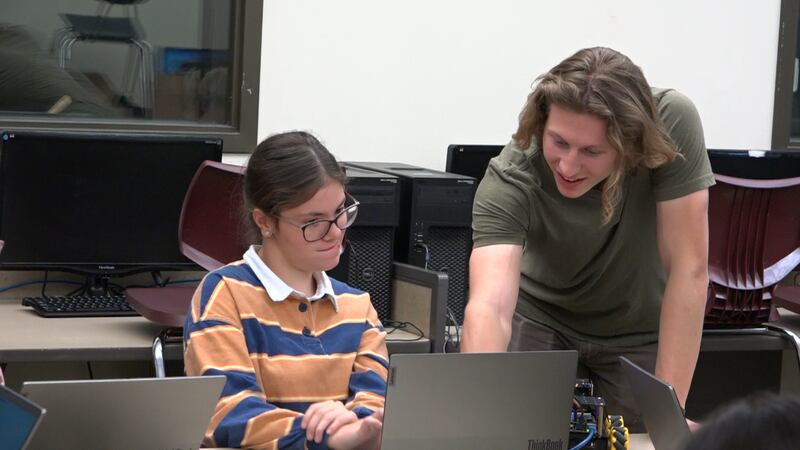 Published: Oct. 22, 2023 at 4:05 PM CDT
CASPER, Wyo. (Wyoming News Now) - Saturday, October 21 was the annual Creativity Camp held at CY Middle School in Casper. Kids got the opportunity to explore their interests within arts and sciences and get their hands dirty.
Desiree Riley teaches the Destination Imagination program at CY Middle School. She says, "We invite kids from all over Wyoming who are interested in learning new creative skills to spend a day attending workshops in a host of different areas, whether it be engineering, theater, costume design, science, all kinds of different workshops where they can learn new things and have a great day."
The kids who attended Creativity Camp had a fun-filled day full of activities, ranging from storytelling, mapping, robotics, and more. The event was in conjunction with the CY Destination Imagination program and the University of Wyoming College of Computer Engineering. Students from the university traveled to Casper to help show kids the exciting potential within the engineering and technology industries.
Curtis Jock is a computer engineering undergraduate student at the University of Wyoming and took part in teaching students at CY. He says, "It's really cool to see K-12 kids be able to implement the same things that we are. There's college classes that are very similar to the stuff that we're teaching. Our goal is to put it in a way that will help the kids understand and help them get excited to maybe eventually want to go into a similar program to what we're doing."
Copyright 2023 KGWN. All rights reserved.