Unseasonably Warm This Week and Weekend
Updated: Oct. 19, 2023 at 3:00 PM CDT
CHEYENNE, Wyo. (Wyoming News Now) - Today has been a warm day so far with plenty of sunshine but also some gusty winds on the eastern edge of Wyoming including Cheyenne and Newcastle. As we make our way into tonight though we're going to cool down with a lot of 40s and even a few 50s through the area. In most areas the wind will weaken which should limit the wind chill tonight.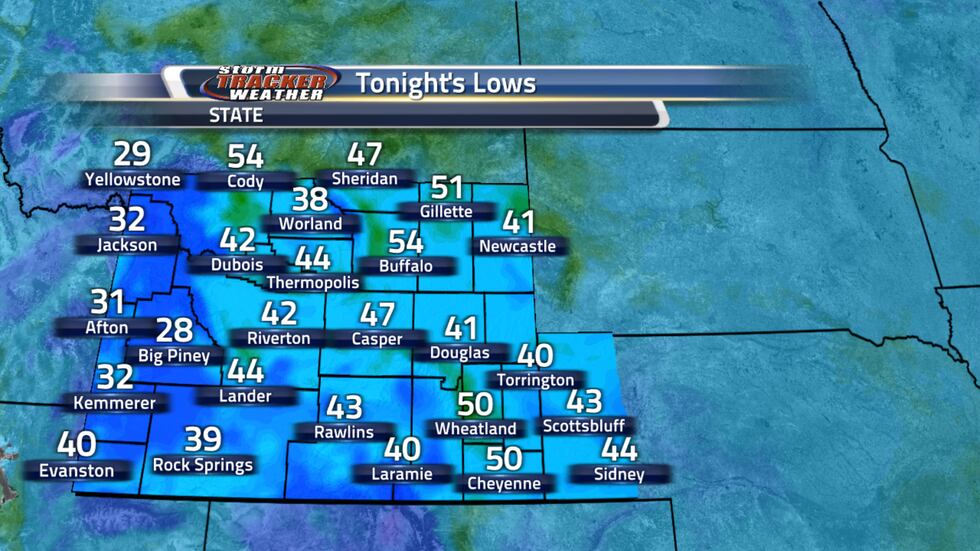 Tomorrow's highs are going to be warmer for us with plenty of 70s all across the state and even a few 80s in Wheatland and Torrington with Cheyenne right on the edge of 80 degrees. Plenty of 70s elsewhere throughout the state as well with 75 in Cody, Worland, Thermopolis, and many other places. These temperatures are quite a bit above our average temperature this time of year but it will make for some great weather to get outside and enjoy the sunshine.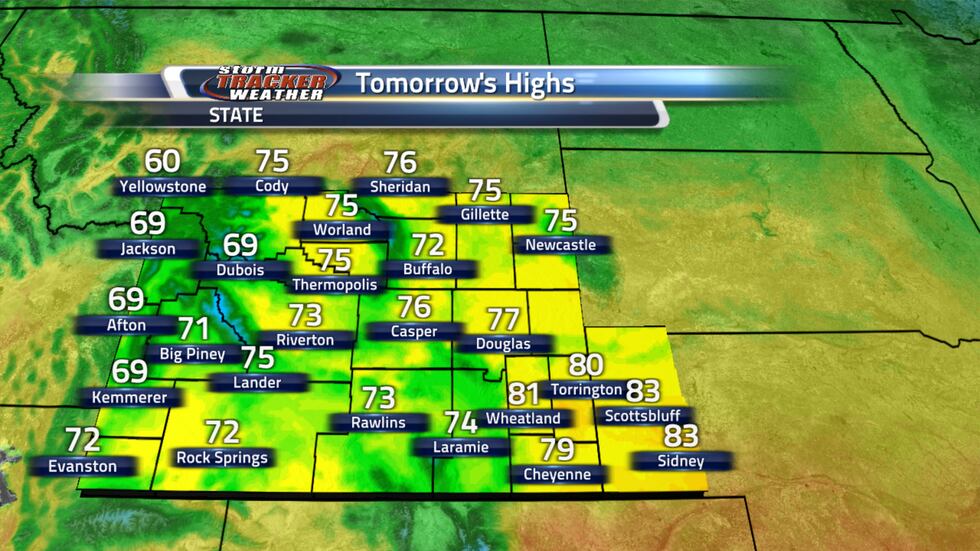 Don't get used to the above average temperatures however as moving ahead to our 6-10 day temperature outlook some below average temperatures are moving in starting next week and continuing for a short while afterwards. The northern counties will be the coldest with the cool air moving to the south from Canada through Billings. The cold air is going to push that unseasonable warm air off to our east.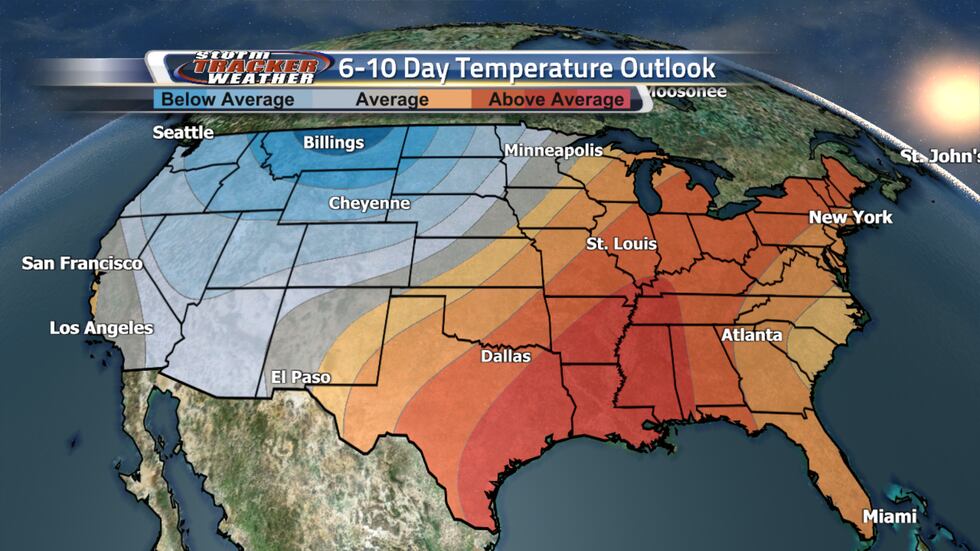 For our extended forecasts, we'll see plenty of sunshine and warm temperatures through the week and weekend here in Cheyenne with 70s sticking around until Monday. Monday brings clouds and Tuesday brings cooler weather for us. Eventually we could even see some snow again as Thursday and Friday get us down into the 40s with lows below freezing as well as those rain/snow chances. We'll have to stay on the lookout in case the forecast changes but for now, winter weather looks to try and make it's return late next week.
For Casper, we're looking at the same trend. Nice and warm with plenty of sunshine through the area this week and into the weekend with clouds rolling in Monday and cooler temperatures Tuesday with next Thursday bringing in a chance at a few flurries through the area as we make our way through the evening with lows around 23 degrees. Again, next Thursday is quite a few days away so the forecast may change as we get closer but winter weather is trying to make its return into the area as we approach Halloween.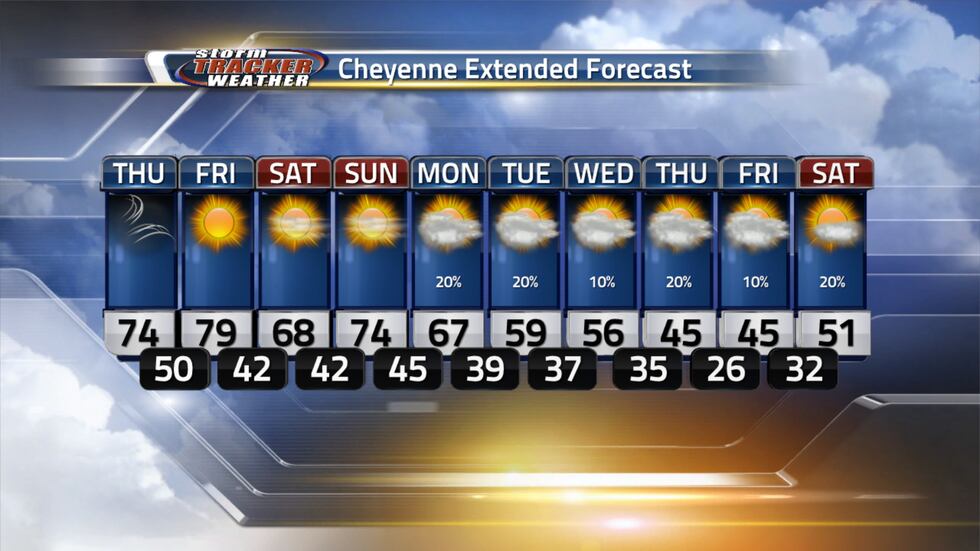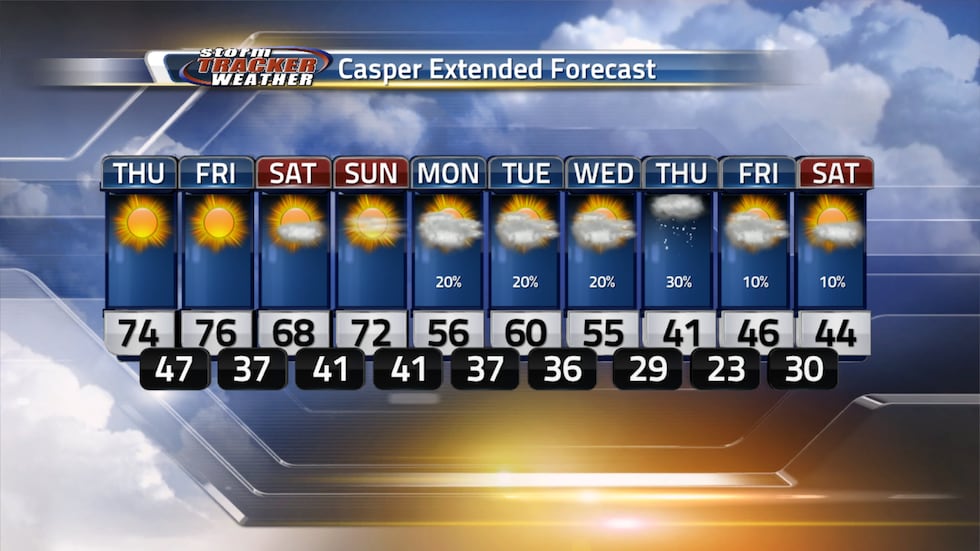 Copyright 2023 KGWN. All rights reserved.