Wyoming Records Another Big Win on National Television Over Fresno State
Pokes Capture Second Win Over Top 25 Ranked Team This Season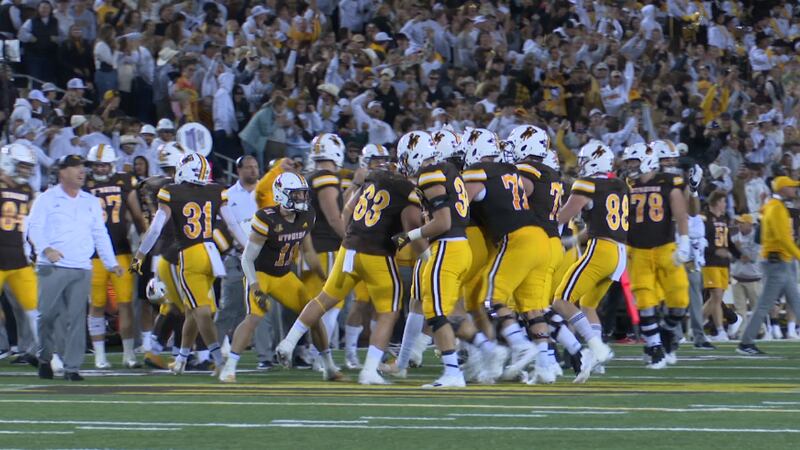 Published: Oct. 8, 2023 at 12:58 AM CDT
CHEYENNE, Wyo. (Press Release) - The Wyoming Cowboys once again showed they are one of the top teams in the Mountain West Conference and the nation as they captured a second win this season over a Top 25 ranked team, defeating No. 24 ranked Fresno State, 24-19, in Laramie on a nationally-televised game on FOX. Earlier this season, the Pokes opened the season with a 35-33 double overtime home win over then No. 24 ranked Texas Tech. The Cowboys improved to 5-1 overall and 2-0 in the Mountain West. Fresno State fell to 5-1 and 1-1 in the conference.
Wyoming entered the week receiving votes in the AFCA Coaches Poll. By defeating Fresno State, the Pokes ended the Bulldogs 14-game winning streak dating back to last season. That winning streak was second only to defending National Champion Georgia's current 23-game winning streak. It also marked the first time that Wyoming has defeated two Top 25 ranked teams in the same season since 2016 when Wyoming defeated then No. 13 ranked Boise State and then No. 24 ranked San Diego State both in Laramie. The Cowboys extended their own home winning streak to five games this season.
"I thought Andrew (Peasley) was in the zone in the first half," said University of Wyoming head coach Craig Bohl. "Obviously, our receivers were also making big plays. We were very productive offensively, and we knew we were going to need every one of those points.
"I thought Fresno State came back and made some good adjustments in the second half. A heckuva a football game. We beat a good team and put ourselves in a good position moving forward.
"We were able to control the clock for the most part, and I was proud of our defense to hold Fresno State to a field goal in the first half."
Bohl was asked specifically about nose tackle Cole Godbout's interception late in the fourth quarter that sealed the win for the Cowboys.
"Our defensive front played great, and that was a big, big play he (Godbout) made," said Bohl. "But I just wanted him to go down on the ground as soon as he caught it."
Peasley completed 19 of 27 passes (70.4 percent) in the game for 183 yards, 3 touchdowns and 0 interceptions. He also added 25 rushing yards for 208 yards of total offense. Tight end Treyton Welch led the Cowboys in receiving with six catches for 74 yards and 1 TD. Wide receiver Wyatt Wieland caught five passes for 50 yards and 2 touchdowns. Running back Harrison Waylee carried the ball 22 times for 83 yards. Linebacker Shae Suiaunoa led the Cowboy defenders with 12 tackles and one sack. Fellow linebacker Easton Gibbs recorded eight tackles and 0.5 sacks, and nose tackle Godbout had four tackles and a 0.5 sacks to go with his interception.
Wyoming's defense set the tone early against Fresno State. After UW won the opening coin toss and deferred to the second half. The Cowboy defense came out aggressive. Fresno State entered the game having gone 40 consecutive offensive drives without a three-and-out series. The Cowboy offense not only forced a three-and-out on the first Bulldog offensive series, but they held FS to three-and-outs on its first two offensive possessions. Fresno State had also scored in 25 consecutive quarters, heading into Saturday's game, but the UW defense shut out the Bulldogs in the first quarter.
Meanwhile, in between those first two defensive stops, the Wyoming offense took its opening possession of the game and drove 66 yards in 13 plays that ended with place-kicker John Hoyland making his ninth consecutive field goal of the season, this one from 34 yards out to give Wyoming a 3-0 first quarter lead.
In the second quarter, the Cowboy offense exploded, scoring 21 points. On the first play of the second quarter, UW quarterback Peasley connected with wide receiver Wieland through a tight window down the middle of the field for a 14-yard touchdown pass. Hoyland's extra point gave Wyoming a 10-0 lead. That touchdown capped off a 10-play, 78-yard drive.
Fresno State would get on the scoreboard for the first time on its first drive of the second quarter. The big play in the Bulldogs' drive was a short four-yard pass from FS quarterback Mikey Keene to wide receiver Jalen Moss, but Moss would break the short completion for 50 yards from the Fresno State 40-yard line to the Wyoming 10-yard line. Three plays later, Keene found Moss again for on a six-yard TD pass to narrow Wyoming's lead to 10-7.
Peasley and the Cowboy offense responded with its third long scoring drive of the first half, moving down field 75 yards in eight plays. Big plays in the drive included a 16-yard run by running back Waylee and passes by Peasley of 11 yards to wide receiver Alex Brown and 14 yards to wide receiver Ryan Marquez. Peasley and Wieland then connected on their second touchdown of the first half on a four-yard completion to put the Cowboys up 10 at 17-7 with 6:42 remaining in the half.
After Fresno State gained two first downs on its next possession, the Wyoming defense stiffened and forced a Bulldog punt. Wyoming would start its final drive of the first half at its own 12-yard line with 2:54 left in the first half. Having already engineered scoring drives of 66, 78 and 75 yards, Peasley proceeded to take the Pokes on their longest drive of the first half -- an 88-yard, 11-play drive. Peasley would carry the ball twice for 23 yards, while completing four passes for 38 yards, culminating in a 12-yard TD pass to tight end Welch in the back of the end zone. The drive left Fresno State with only 31 seconds remaining in the half, and Wyoming took a 24-7 lead into halftime.
The third quarter saw only one score when Fresno State place-kicker Dylan Lynch converted a 39-yard field goal to cap off a long, 15-play, 63-yard drive that took 6:40 off the clock and cut Wyoming's lead to 24-10. That is how the third quarter would end.
The fourth quarter would begin with the two teams exchanging punts. On Fresno State's second possession of the final quarter, the Bulldogs would drive down to the Wyoming seven-yard line. On a third and four from the seven, Cowboy defensive end DeVonne Harris would come up with a big play, sacking FS quarterback Keene for a 13-yard loss back to the 17-yard line. That sack forced a second field-goal attempt by Lynch, who converted from 38 yards to make the score Wyoming 24, Fresno State 13.
With 8:31 to go in the game, Fresno State executed a perfect on-side pooch kick that was caught at the Wyoming 48-yard line by the Bulldogs. With starting quarterback Keene injured on the sack by Harris on their previous possession, back-up quarterback Logan Fife came into the game for the Bulldogs. Fife would complete five passes for 52 yards on the drive, including an eight-yard TD pass to wide receiver Mac Dalena and Fresno State had cut the lead to 24-19 with 5:17 remaining.
Wyoming's offense knew it was critical to put together a good drive to stop Fresno State's momentum. The Cowboys gained two first downs and had two big plays on the drive, including a 19-yard pass from Peasley to Welch and a 10-yard run by Waylee. Facing a fourth down and two at the Fresno State 30-yard line, Hoyland came in to attempt a 47-yard field goal. The always reliable Hoyland, who had made all nine of his field-goal attempts on the season, could extend the Cowboys' lead to 27-19 with a successful attempt. But the kick slid slighty to the right and hit the right upright and bounced out.
Fresno State took over at its own 30-yard line with 1:48 to go in the game and no timeouts. Quarterback Fife would complete a seven-yard pass to start the drive. Later in the drive, facing a fourth and three at the FS 37-yard line, Fife completed a nine-yard pass for the first down. But two plays later, Fife attempted a pass to his right that was tipped into the air by Wyoming nose tackle Godbout at the line of scrimmage and then Godbout intercepted the tipped pass and returned it 23 yards to the FS 25-yard line with 46 second left in the game. Peasley kneeled down twice and Wyoming had secured its second win over a Top 25 ranked team in War Memorial Stadium this season.
Up Next
Wyoming will travel to the Air Force Academy next Saturday, Oct 14 in another match-up of two of the top teams in the Mountain West. Like Wyoming, Air Force entered this week receiving votes in the national polls. The Falcons had a bye week this week, but will come into its game vs. Wyoming with a 5-0 overall record and a 3-0 record in the Mountain West. The Wyoming-Air Force game will kick off at 5 p.m., Mountain Time and will be televised on CBS Sports Network. The game will also be broadcast over radio on the Cowboy Sports Network, beginning with the pre-game show at 3:30 p.m.
Copyright 2023 KGWN. All rights reserved.