Douglas Historic Preservation Society brings legends of the Wild West back to life
The Preservation Society hosts their 15th annual cemetery tour at the Douglas Park Cemetery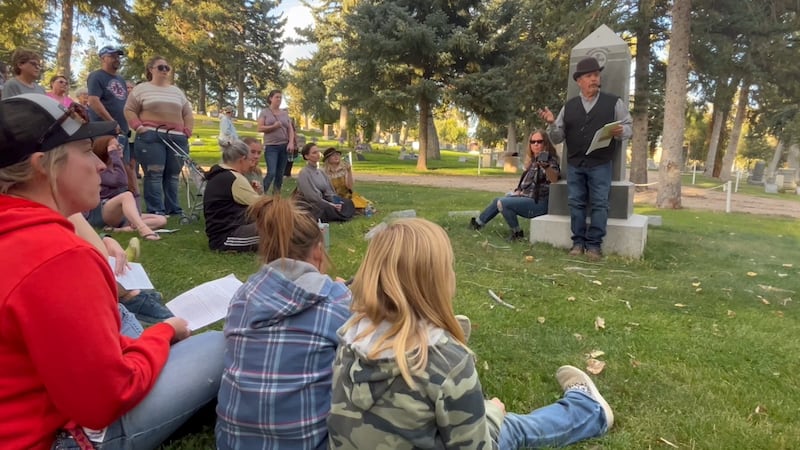 Published: Oct. 1, 2023 at 10:35 PM CDT
DOUGLAS, Wyo. (Wyoming News Now) - October is here and the Halloween spirit is in the air. For the past 15 years the Douglas Historic Preservation Society has invited the public to join them on a tour of the Douglas Park Cemetery.
This isn't your typical cemetery tour. Here, the Preservation Society helps bring back to life some of the influential and infamous that are buried here.
Heidi McCullogh, the staff liaison for the Douglas Historic Preservation Society, says "I think it connects with the people so much more when you have somebody that's telling the story, that's acting the story out. You can connect with that person a little better when you have someone telling that story."
Getting to meet some of those buried in Douglas Park Cemetery gives visitors a unique insight on the history of Wyoming.
Jacui Bauman is the cemetery tour guide. She says, "A lot of people come out to the cemetery but don't think about the cemetery being a vital piece of history… Every grave out here is a story, somebody's life story. Douglas has a very long and varied history in the West. Any significant Western piece of history has passed through Douglas."
You don't have to worry about the souls you meet on this tour, they're kind spirits.
McCullogh says, "They're all friendly ghosts. We don't have any spooky ones. We occasionally have an outlaw or two, but we don't have any outlaws this year."
Copyright 2023 KGWN. All rights reserved.