Updated: Sep. 29, 2023 at 3:30 PM CDT
CHEYENNE, Wyo. (Wyoming News Now) - Starting today with a look at our weather alerts, we have a Fire Weather Warning in effect for Carbon County until 7:00 PM tonight and a Fire Weather Watch in effect for Fremont, Natrona, and Sweetwater Counties until 7:00 PM tomorrow. Fire weather conditions mean that conditions are favorable for fires to spread rapidly and can ignite easily. Keep the conditions in mind if you decide to do any outdoor activities in these areas.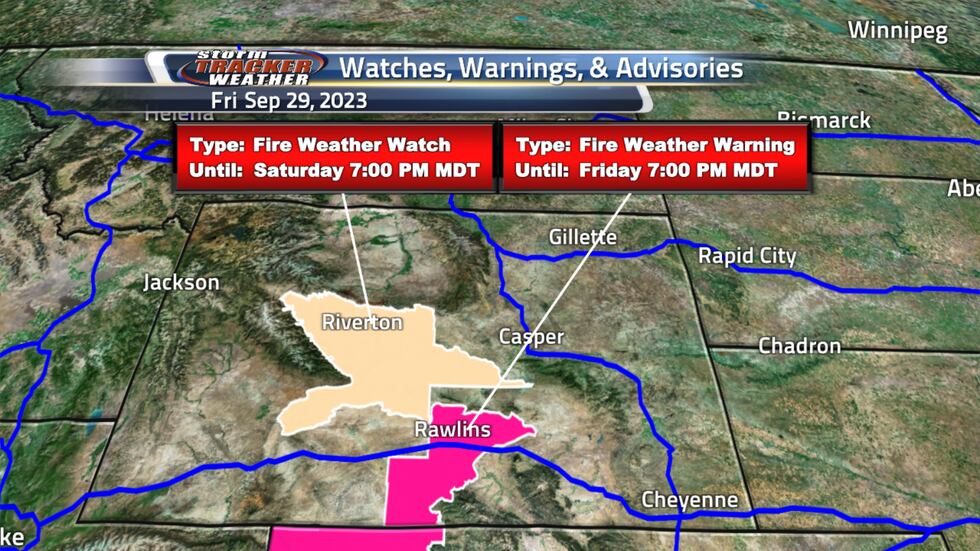 As we make our way into the evening this evening, things will cool down again for us with most of the state being below 50 degrees with mostly mid to lower 40s through the central and western portions of the state. The western edge of Wyoming will again see lows below or at freezing.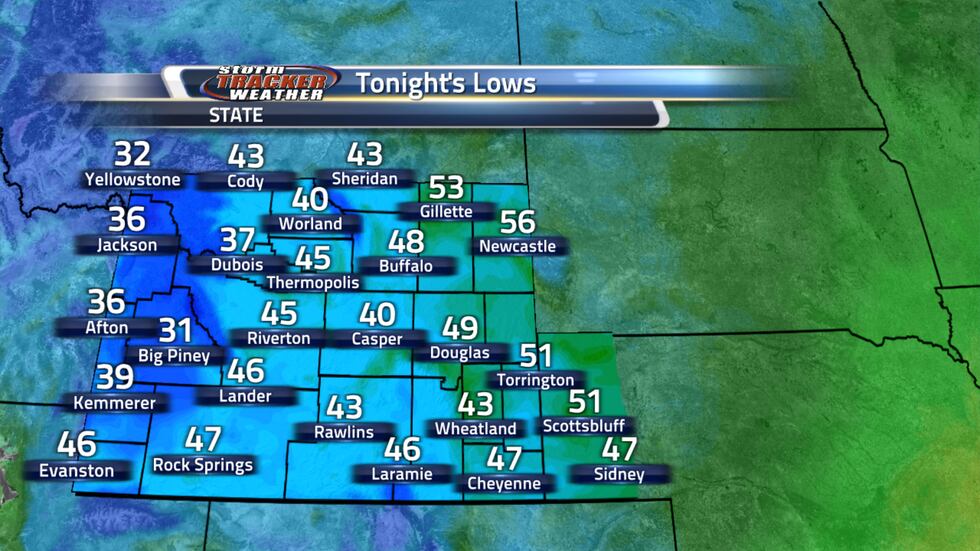 For those of you headed to Laramie this weekend to see the Pokes at their homecoming game, it will be a great day. Highs in the mid 70s and sunny with only a few clouds. However, the wind will be blowing out there with winds around 14 MPH. That could cool things down for us and also could have an impact on the ball for passes, field goals, and kickoffs. As we make our way through the evening winds will also shift from SW to SE and temperatures will cool down into the evening hours.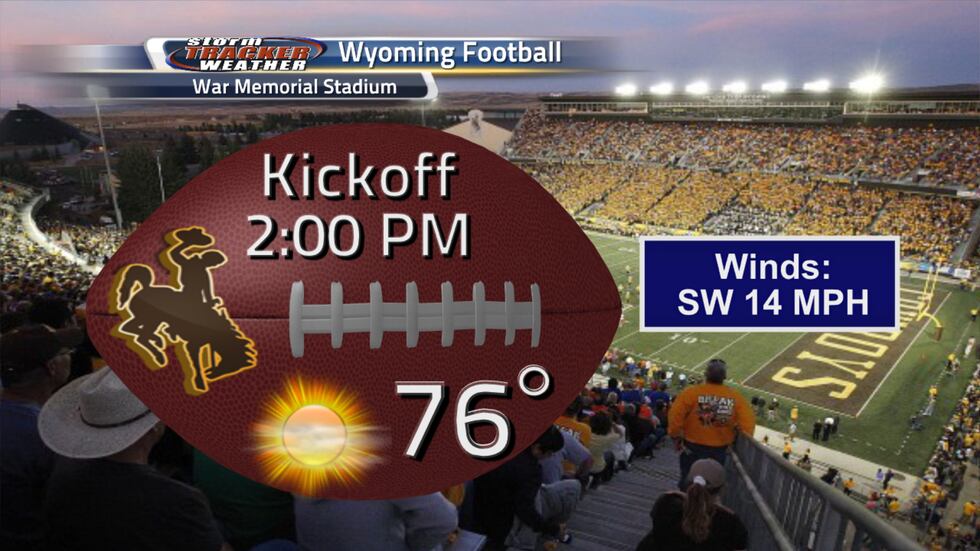 For our extended forecasts, changes are on the way. In Cheyenne, we've got nice warm days coming up through our weekend but Monday brings in the rain and Tuesday brings the cool temperatures. Next week will see highs in the upper 50s to lower 60s which is a large change from this week's warm sunny days. We could also get quite a bit of rain from Monday through Wednesday.
In Casper, the same change will occur for us as well. From sunny and warm on the weekend to rainy and cool in the new week. Tuesday will be our best chance of rain and some places could see quite a bit of rainfall. Temperatures will hold steady in the upper 50s to lower 60s after the cool down. Our lows will get close to freezing as well around the area so if you have any outdoor plants still going strong, keep the cold nights coming up in mind.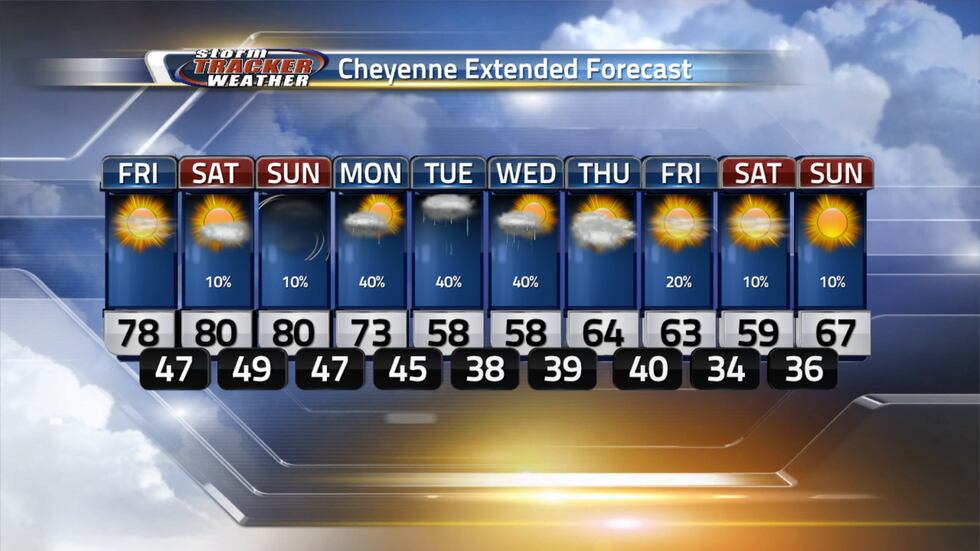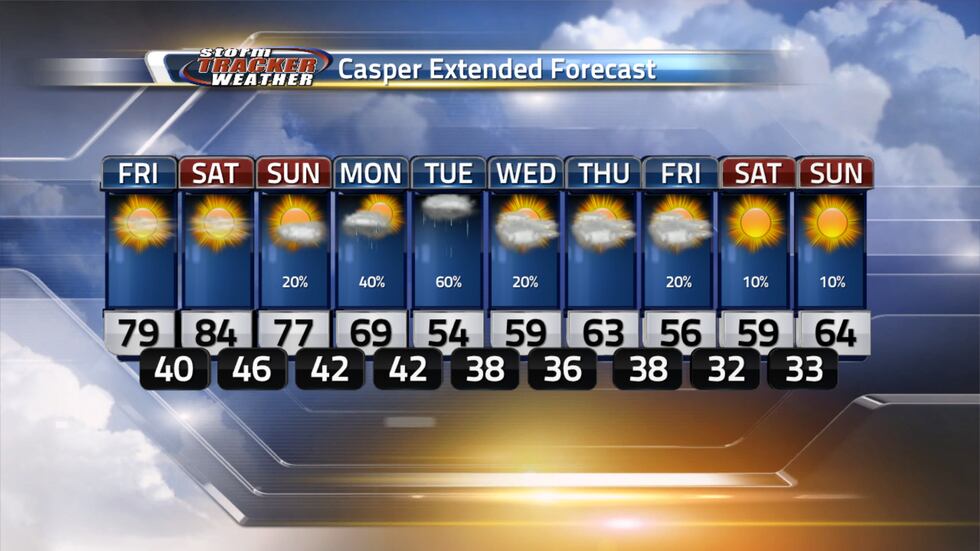 Copyright 2023 KGWN. All rights reserved.