Horse Nations Indian Relay hosts Championship of Champions in Casper
The Horse Nations Indian Relay teams galloped into Casper to compete in the 2023 Indian Relay championship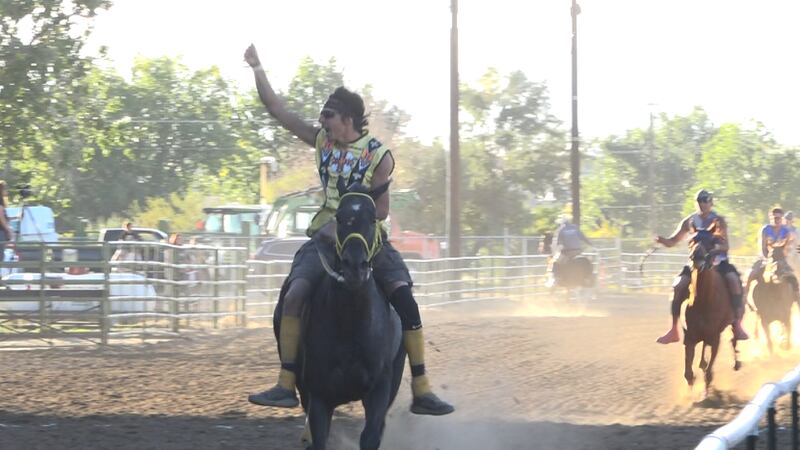 Published: Sep. 25, 2023 at 4:07 PM CDT
CASPER, Wyo. (Wyoming News Now) - On Friday, September 22, the Horse Nations Indian Relay had their first slew of events at the Central Wyoming Fairgrounds in Casper. The Indian Relay has spent the summer touring surrounding states and this is their end of season championship. This finale is known as the Championship of Champions, as winners from throughout the season compete for the top spot.
Indian Relay is sometimes referred to as America's first extreme sport. Modern day Indian Relay consists of teams exchanging horses while they race around the track. Races like this trace their roots back to Native American tribes who relied on quick horse exchanges during hunts and battles.
Calvin Ghost Bear, the president of the Horse Nations Indian Relay Council, says, "A lot of these races were handed down and each tribe does their own version of Indian Relay, but we're a modern day Indian Relay now. Three horses, four team members, and one rider goes around and exchanges three times going around the track each time and exchanges off that horse. Of course the one who crosses the finish line first is our winner."
This weekend previous winners put their titles on the line for the chance to be declared the 2023 Indian Relay grand champion, and the competition was fierce.
Tyler Peasley won the 2022 men's relay championship. He says, "Winning last year, it's pretty prestigious. The toughest teams are coming into these races and they put on a good race… I gotta stay humble and stay focused. Anything can happen out there."
Sunday was the final day of racing. The day consisted of the kids, youth, JR. and the women's championship. The final race of the day was the men's championship relay. The final race was a close one, with racers neck and neck headed towards the finish line. The winners were the Carlson Indian Relay team from Montana. Carson Indian Relay was given the prestigious title of Champion of Champions, and jockey Chazz Racine declared the world champion of Indian Relay.
Copyright 2023 KGWN. All rights reserved.