The Mayor's Minute from Mayor Patrick Collins – September 22nd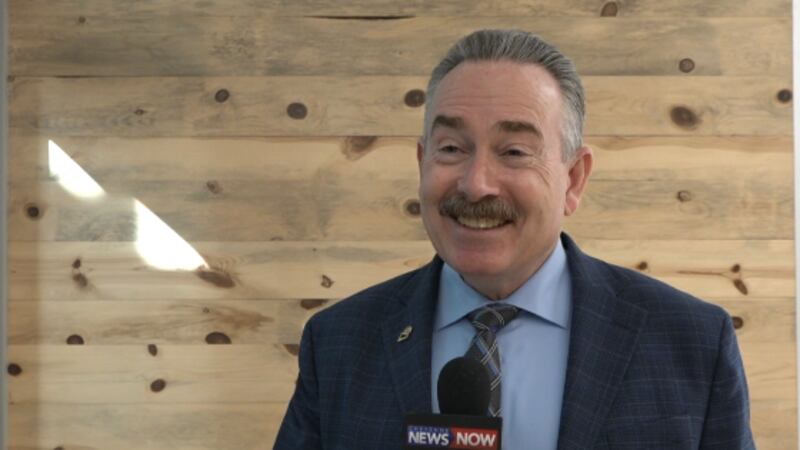 Published: Sep. 22, 2023 at 10:54 AM CDT
CHEYENNE, Wyo. (PRESS RELEASE) -I started listening to music about the time I started Jr. High School. I fell in love with Three Dog Night. The Harmony album was the first one I bought in 1971, and today I still think of "Never Been to Spain" as one of my favorite songs. Last Friday, Three Dog Night played at the Civic Center. There are only two original members left, aged 81 and 76, but they brought the old magic. Judy and I had a blast. Thanks to the Civic Center for bringing my dream concert to Cheyenne 50 years later.
The Cheyenne Firefighters hosted the annual chili cook-off event to raise money for the Fill-the-Boot campaign. I was a judge again this year and the chili did not disappoint. It was hosted at the Blue Raven and the day was perfect. I did try the Cornhole game and found it to be much harder than what they make it look like on TV. The boards are far apart, and I had some trouble getting the bag all the way there. It is cool our firefighters volunteer to raise money to fight MDA and the support our residents give them. Thanks everyone.
I spent Monday and Tuesday at a meeting of bankers. I enjoyed the speakers and their predictions on our economy. When we do our city budget, we have to make assumptions on what the economy will be a year down the road and how it may affect our ability to pay our bills. Hearing the discussions gives me a bit of peace heading into 2024.
The LEADS board meeting was at 7:00 a.m. Wednesday morning. You all know what I think of these early morning meetings, but the information gained makes it worth the lack of sleep. We have a new LEADS member this month, Fortis Construction. They are experienced data center builders and I hope that means one of the companies we have been working with is ready to announce they are coming to Cheyenne. We are currently working with 28 companies and without support from our community, we would not have the resources to recruit and land the primary jobs the companies bring. Tim from the airport let us know the runway project is completed and our air service is back flying twice a day. I missed it during the construction.
I got to meet with another one of our employees who has worked for the city for 25 years. Bryan Bell manages our Fleet Maintenance department. His crew keeps all our vehicles safely on the road. I am amazed at the wide variety of vehicles they are responsible for. Fire engines, garbage trucks, police cars, heavy duty trucks in forestry, and so much more. Keeping the technicians trained on the changes in the industry and variety of vehicles makes it a challenge. Proud of this crew.
Thursday, I had two closings to buy property for the greenway and Storey Blvd. extension. Our greenway grows a bit every year. Jeanie Vetter has been relentless in finding the property needed to extend our greenway to areas not currently served. The section from College Drive to the new Kiwanis Park is now almost complete with the property we closed on Thursday afternoon. I so appreciate Trace and Mary Lewark, Dale and Sharon Keizer, and Robert Chamberlain of Swagger Construction for agreeing to work with the city to complete the property acquisition.
Next, we closed on a piece of property needed to extend Storey Blvd. to the east. Again, the owners did not have to work with the city, but they understand the need to improve our transportation network. Big thanks to Connie and Bill Holgerson and the Whitney family for making this property closing possible. The way our residents give back to our city is amazing and appreciated.
Our Metropolitan Planning Organization (MPO) Policy Committee met Thursday afternoon to approve the list of projects we will plan in the next budget year. It is called the Unified Planning Work Program. I am impressed with how this group of projects will prepare our city for future development. Extending Parsley Blvd. to Terry Ranch Road and High Plains Road over the BNSF railroad tracks will help support the new High Plains Business Park. 3,000 acres will be opened to a new data center and so many more potential new businesses. Planning where to place a stop on a potential new rail service from Pueblo to Cheyenne will show we are serious about our part of the Front Range Rail System. New greenway underpasses along the Henderson system will add more neighborhoods to the existing system. Planning for the roadways through the land south of Storey Blvd., East of Powderhouse, and west of Converse will open it up to development when the owners are ready. It is an important area for the future. Plans today will be construction projects in the years to come.
In 2006 I was on the city council when we annexed 42 acres along Fox Farm Road, west of South Greeley Highway. It looked kind of like wasted land back then. I went to a ribbon cutting for the last piece to be developed in the 42 acres, the Homes2 Suites hotel. With all the new development coming to our area, the extended stay hotel will meet a big demand. I toured the rooms, and I could definitely live for an extended time. They were big and very comfortable. In the 42 acres area we now have three hotels, a large apartment complex, Head Start, and a Boys and Girls Club. What we annexed in 2006 is so much more today than I could have ever visualized. Thanks to Kim Andereck, the Rieman Family, and all the other partners for their investment and vision.
The United States Attorney's office in Wyoming held a work session called "United Against Hate" at the library. The goal of the work session was to help the community identify what is a hate crime, and how to report it. Eric Heimann from the office did a great job and told the story with humor and facts. We have a number of groups all working to educate and help end hate. "Not in our Town", "Braver Angels", and the US Attorney to name a few. I appreciate these efforts to make all our residents feel safe and welcome in our city. If you are a victim of a hate crime or know of someone who has, please inform local law enforcement and then the US Attorney at USAWY.ReportHate@usdoj.gov.
Hard to believe summer is officially over and it is now fall. Hoping for a long and warm one.
Copyright 2023 KGWN. All rights reserved.