Governor Mark Gordon Leads Pioneering Workshop on Decarbonizing the West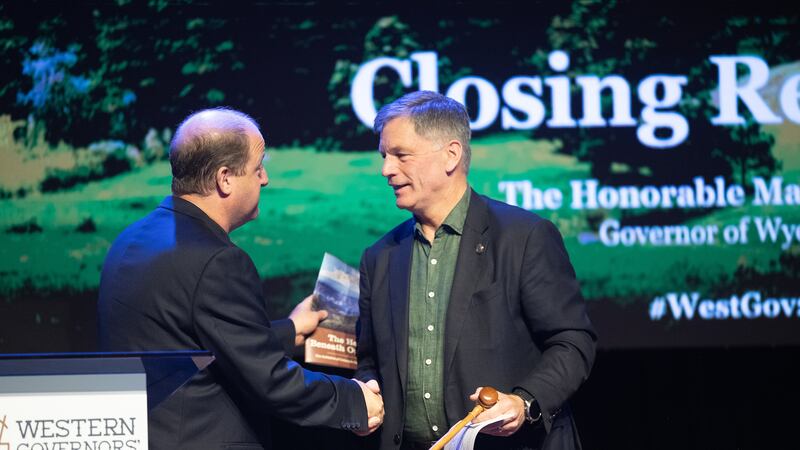 Published: Sep. 21, 2023 at 2:26 PM CDT
CHEYENNE, Wyo. (Wyoming News Now) -Governor Mark Gordon, at the helm of Wyoming Governor's Association (WGA), hosted a groundbreaking workshop titled "Decarbonizing the West" in Gillette, Wyoming. The workshop served as the inaugural session for the WGA Chair initiative, aiming to delve into vital aspects of carbon capture, utilization, and storage (CCUS). Distinguished participants, including federal, state, local, and industry stakeholders, converged to discuss strategies, policies, and technologies to combat carbon emissions effectively.
This crucial workshop featured in-depth discussions on multiple dimensions of CCUS, ranging from federal programs to regulatory implications and technology integration. Attendees explored the development and deployment of CCUS technologies, aiming to devise best practices and policy recommendations for a sustainable and environmentally conscious future.
In recent years, landmark federal legislation like the Infrastructure Investment and Jobs Act (IIJA) and Inflation Reduction Act (IRA) has opened significant doors for research and development in carbon management technologies. This has resulted in an unprecedented surge of investments into carbon management and commercialization provisions, marking a pivotal moment in the fight against climate change.
Brad Crabtree, Assistant Secretary for Fossil Energy and Carbon Management, played a vital role by presenting an overview of the federal landscape concerning carbon capture, utilization, and storage. He shed light on the Department of Energy's ongoing efforts to propel the development and implementation of carbon capture technologies.
The workshop addressed the complex regulatory landscape surrounding CCUS development, including financial incentives, tax credits, leasing and siting, and well permitting for carbon storage. Panelists representing diverse expertise examined the regulatory barriers that hinder research, development, and implementation of CCUS and other carbon dioxide removal technologies in the West.
The panel comprised experts like Matt Fry, Senior Policy Analyst from the Great Plains Institute; Tara Righetti, Occidental Professor of Energy and Environmental Policy at the University of Wyoming; Stephen Fusilier, HQ Branch Chief, Rights-of-Way, Bureau of Land Management; and Todd Parfitt, Director of the Wyoming Department of Environmental Quality.
Wyoming's Integrated Test Center (ITC), a research facility at the forefront of advanced carbon capture, utilization, and storage technologies, was a focal point of the discussion. ITC technology vendors presented a technical overview of ongoing projects, providing valuable insights into the challenges and opportunities for CCUS development in western states.
Panelists included Yutaro Hara, Assistant Manager, CCUS Section, Kawasaki Heavy Industries; Brice Freeman, Director of Carbon Capture, Membrane Technology and Research; Ambal Jayaraman, Principal Engineer, TDA Research; and Howard Meyer, Senior Institute Engineer, GTI Energy.
Governor Mark Gordon emphasized Wyoming's commitment to sustainability and innovation in combating climate change, reinforcing the state's position as a leader in driving environmental progress and advancing carbon management technologies.
Copyright 2023 KGWN. All rights reserved.