City of Laramie Shares the Myth and the Truth About Recycling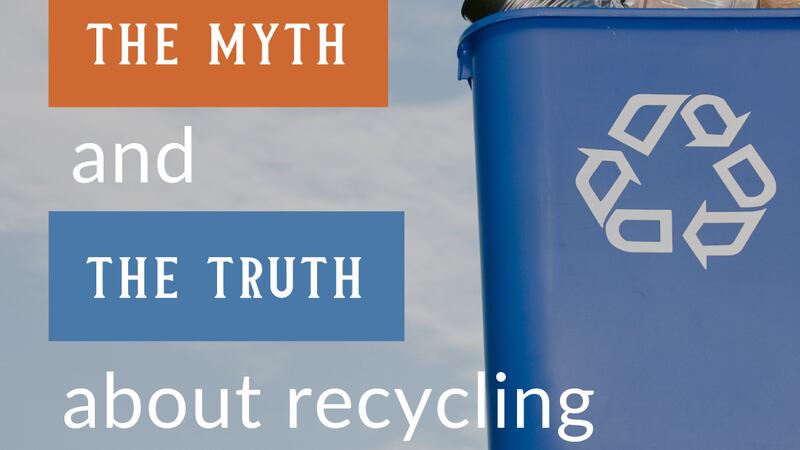 Published: Sep. 21, 2023 at 4:09 PM CDT
CHEYENNE, Wyo. (PRESS RELEASE) -In an age where environmental consciousness is at the forefront of many people's minds, recycling remains a cornerstone of sustainable living. However, there are many myths surrounding recycling and much of what people think can be recycled, can't. As Laramie welcomes a new season of students and residents, the City is reminding the community of the importance of recycling while clearing up some recycling myths and misunderstandings.
Recycling saves resources, creates jobs, reduces mining for raw materials, saves energy for new material production, and reduces a community's footprint. The City of Laramie aims to make recycling in Laramie easy and convenient by providing the blue recycling bins that are collected and taken away by Laramie's Solid Waste department. However, placing the wrong items in the blue recycling bins can actually do more harm than good, which is why the City stresses the importance of properly recycling accepted materials only.
"For Laramie, and in communities in general, when you recycle materials, you divert them away from the landfill, which saves space for actual trash that could harm the environment, which is the purpose of a landfill," says JR Slingerland, City of Laramie Solid Waste Manager.
Here are some common myths, best practices, and information about unaccepted items so residents can help ensure the City's recycling efforts are more beneficial than harmful.
Myths:
Everything can be recycled. Trash thrown into the recycling bin will not be sorted and recycled. Laramie, and most communities, do not have the staffing manpower and sorting equipment to sort through resident's trash to pull out recyclable items. Recycling starts in your home where it's critical you do the sorting yourself. Just one bad item can ruin it for the whole batch.
If it has the recycling symbol (chasing arrows) it can go in the recycling bin. Manufacturers have overused this symbol and it doesn't always mean something is recyclable. Check with the City's Solid Waste department's accepted items before throwing them into the bin; and when in doubt, throw it out.
I should be compensated for recycling. This may have been true decades ago as materials had higher values, but currently, there is not a lot of value to these materials which is why there is a small fee.
"We are transparent about this cost here in Laramie. Residents will see that small 'ng' right there on your bill. Laramie's recycling (and most of central and southern Wyoming) has to be sent to Denver for processing, which increases the cost of recycling," says Slingerland.
Best Practices:
Keep it simple. Laramie recycles only two types of plastics: #1 and #2. These plastic items should be in the shape of a bottle, jar, or jug. Anything beyond that is not recycled.
Focus on the basics. Plastics, cardboard, un-shredded paper, and aluminum cans are easy to recycle and can be thrown straight into the bins. However, just because some items have the recycling symbol, does not mean they are accepted. Check if an item is accepted before tossing it into the bin.
Do a quick rinse. Empty or pour out contents of containers and cans. Ensure no food residuals or other substances are left inside containers. A quick rinse to flush out leftover contents will do the trick and there is no need to remove labels.
Unaccepted Items:
Plastic bags. These are the most unaccepted items the Solid Waste Department sees. Do not try to recycle plastic bags, and do not bag your recycling. Instead, recycle bags at Safeway or Walmart, reuse them around your house, or take them to the Laramie Parks Department where they will be used for dog waste bags in parks. Better yet, reduce your need for plastic bags by using reusable bags for your groceries.
Styrofoam. Another common item that cannot be recycled is Styrofoam, which is often included in cardboard boxes. Take an extra second and ensure your cardboard boxes don't contain any Styrofoam before you toss them in the bin and trash any other packing material or foreign items that accompany the box.
Bottom line: Recycling reduces waste, saves resources, and is absolutely worth doing. However, it must be done properly. The City strongly encourages residents to use the Laramie Waste and Recycling app, to do their own research, and keep it simple by recycling just the basics. Residents can view accepted materials on the City website as well as download the app where they can look up and receive alerts for their recycling collection day. For more information visit https://www.cityoflaramie.org/197/Solid-Waste.
Copyright 2023 KGWN. All rights reserved.