Wyoming Football Media Day 2023 full of optimism for the season to come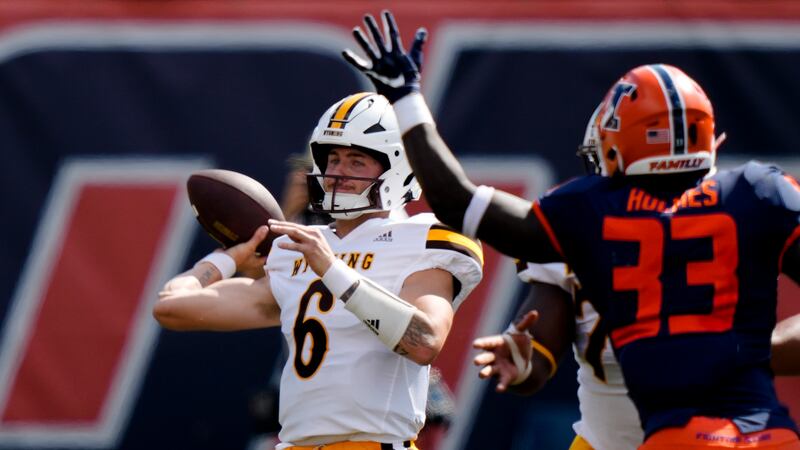 Published: Aug. 16, 2023 at 6:45 PM CDT
CHEYENNE, Wyo. (Wyoming News Now) - Wyoming Football Media Day 2023 started off with a highlights hype video to get everyone involved in the right mood, it did, but the tone was already set.
It was obvious that players and coaches alike were excited to get the season rolling. Expectations are high for the Cowboys and the team is prepared to meet those expectations.
"We have expectations as a coaching staff to move forward as a football team," Head Coach, Craig Bohl, said. "We have been consistent going to bowl games and having winning records. But, to take that next step forward and secure a Conference Championship, the stars have to align. We have talked about 'raising the bar 2%' within our program. While that may seem like a simplistic number, if you look at improving 2% in every aspect of what you are doing, well those are the numbers that are going to allow us to be successful this next year. Those are easily said, but hard to do."
With a lot of returning production and players on both sides of the ball that mentality of "2%" has been bought into. Many players are ready to make the next step in not only their careers', but also as a program.
"I feel comfortable with the team, offense we are doing good, chemistry is there, we got underdogs on the team, we got leaders, we got a good line, they movin' well, we got a quarterback with good vision, we got running back with a real dynamic, and you know the wide receivers are going to do what they have to do every time." Running Back, D.Q. James, said.
This is only the start of Wyoming News Now Sports' coverage of Media Day. We will have exclusive interviews airing EVERY night until kick off against Texas Tech on Sept. 2nd!
The best spots for in depth coverage this season are on my Twitter and or Alex Eisman's Twitter! We look forward to bringing you the best Cowboy's coverage possible.
Copyright 2023 KGWN. All rights reserved.