Bill introduced to ban controversial helicopter roundups of wild horses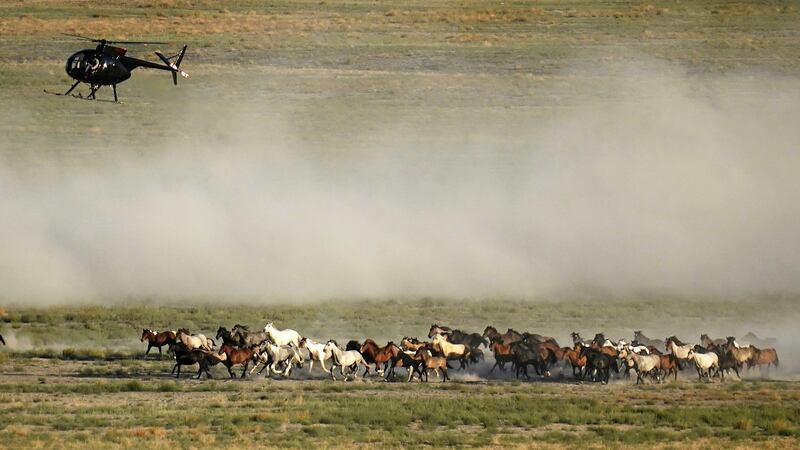 Published: May. 25, 2023 at 10:52 AM CDT
CHEYENNE, Wyo. (Wyoming News Now) - An effort to protect wild horses is underway.
On Wednesday, a bill called the Wild Horse and Burro Protection Act was reintroduced to ban controversial helicopter roundups of wild horses.
To curb wild horse populations in Wyoming and other states in the Midwest, low-flying helicopters are used to corner horses and chase them into trap pens. These methods often result in serious injuries, and often death, for the horses.
According to a press release from the American Wild Horse Campaign, even those who survive are deported to a life of captivity in government-funded holding facilities.
This week, US Reps. Dina Titus (D-NV), David Schweikert (R-AZ) and Steve Cohen (D-TN) reintroduced the bill citing not only the cruel and inhumane elements of roundups, but the taxpayer cost as well.
"Tragically, these animals are subjected to taxpayer-funded helicopter roundups and removals that are all too often costly, ineffective and inhumane," said Titus, also a member of the Congressional Animal Protection Caucus.
The ban, however, is not without proposals for alternative practices that horse advocates claim are cheaper and safer. Principal among them are fertility vaccines.
"Grounding these helicopters and utilizing more humane methods of managing wild horse populations on the range, such as fertility control vaccines, would go a long way toward protecting our wild horses and burros and saving tax dollars," said Holly Gann Bice, director of government relations for the American Wild Horse Campaign.
Titus also expanded on the intricacies of the bill, the alternatives possible, and even cited job opportunities.
"My legislation would eliminate the use of helicopters in BLM wild horse gathers and require a report to explore the benefits of alternative aircraft for humanely gathering horses and the workforce opportunities for traditional cowboys."
Bill advocates also emphasized the ineffectiveness of helicopter roundups.
"Helicopter roundups are a grossly inefficient use of taxpayer dollars and are ultimately counterproductive as a method of population control," according to the release from the AWHC. "Since fiscal year 2017, the BLM has spent more than $25 million in taxpayer dollars for helicopter roundups, according to federal records. The BLM states that the cost to round up a horse from the range and warehouse the wild animal for life is up to $50,000."
In 2021 and 2022, the BLM conducted the largest roundup in US history. The operation to remove more than 3,500 horses from the Wyoming Checkerboard region resulted in 37 deaths, including a mare who died of a ruptured uterus and horses who died after suffering broken necks and limbs.
The press release also cited a February 2022 incident in Nevada.
"A colt broke his leg while being relentlessly chased by a helicopter; footage showed the panicked young horse struggling to continue running. Eventually, after half an hour, the animal was euthanized."
The Bureau of Land Management, who's tasked with managing the vast majority of wild horses and burros, was sued by several prominent wild horse advocates earlier this month over the agency's plan to eliminate 43% of designated wild horse habitat in the Red Desert area of Wyoming, eradicating one-third of the state's wild horse population.
Copyright 2023 KGWN. All rights reserved.