Wyoming Game and Fish talk hunting licenses and sheds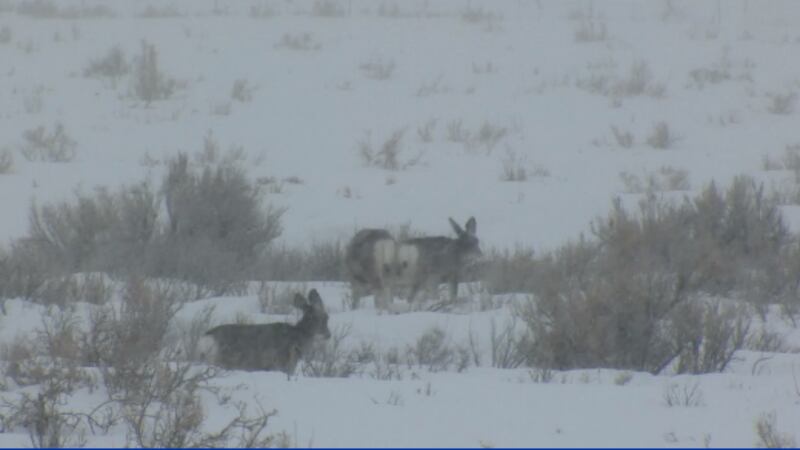 Updated: Apr. 27, 2023 at 7:20 PM CDT
CHEYENNE, Wyo. (Wyoming News Now) - With the harsh winter kill off of big game this year, many hunters are concerned about how that will affect the hunting season.
The Wyoming Game and Fish Commission met on April 18th in Casper to approve upcoming hunting license numbers and to discuss ways to limit stress on one of Wyoming's biggest resources.
"Shed antler collecting is not the only activity with the potential to disturb wildlife. We encourage all recreationists to be aware of wildlife during this vulnerable period and try their best not to disturb them," said Breanna Ball, PIO, WGAFD.
Wyoming Game and Fish Department significantly adjusted antelope licenses by over 10,000, and mule deer licenses were reduced by 4,400.
Issuing a little over 30,000 antelope licenses and about 5,600 limited quota deer licenses, Elk will increase this year by about 2,200.
Additionally, shed antler collecting has been postponed by two weeks on designated lands, excluding Teton County, until 6 a.m. May 15th.
This is to protect the big game, help minimize stress and increase their chances of survival.
Teton County is not included in the closure extension because the primary species that winter in Teton County are Elk, Moose and Bison, largely unaffected by the temperatures.
"The finalized information will be on our hunt planner and on the game and fish website in the coming days. We do encourage hunters to use that hunt planner when taking a look and planning their upcoming hunt and definitely utilizing their top 3 choices for mule deer and antelope," said Ball.
Forest Service lands adjacent to the National Elk Refuge will have their standard opening.
Still, Game and Fish, along with the Bridger- Teton National Forest, are asking antler hunters and recreationists to avoid wintering bighorn sheep in the flat creek and Curtis Canyon during this period.
Copyright 2023 KGWN. All rights reserved.