New Facility to Meet Evanston's Early Childhood Needs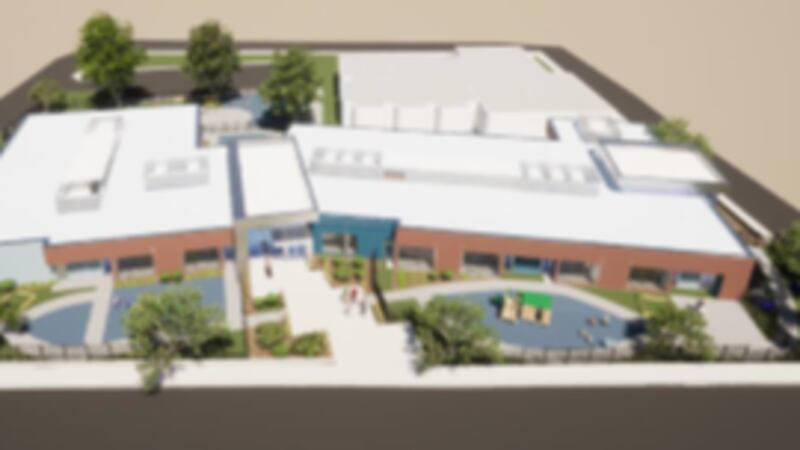 Published: Apr. 12, 2023 at 4:16 PM CDT
CHEYENNE, Wyo. (Wyoming News Now) -
Residents in the growing community of Evanston will have greater access to much-needed childcare, early childhood education and programming for parents, caretakers and educators after a new facility for Evanston Child Development Center Inc. received funding through the federal New Markets Tax Credit Program. The new facility is the second phase of a $10 million project to replace ECDC's original modular building, which was built about 50 years ago and never intended to be permanent.
Financing came together through investments from ECDC, the U.S. Department of Agriculture, Capital One, as well as New Markets Tax Credits from the community development lender MoFi. The project highlights the power of the NMTC Program to help finance community facilities in the places where they are needed the most. Construction is expected to be completed in January 2024.
"Quality early childcare and education is essential. This new center has been needed in our community for a long time," said Kendra West, Executive Director of ECDC. "We are grateful for the opportunity to get funding from the New Markets Tax Credit Program to complete phase 2 of our new facility. With this support, our young children and families will benefit with increased space and additional jobs within our community in a high-quality environment."
About Evanston Child Development Center
The nonprofit ECDC was established in 1981 and has operated out of its modular building for more than 40 years, focusing on early childhood education to improve cognitive, academic and social skills and prepare children for success in school. In addition to childcare, ECDC offers preschool, Early Head Start, K-5 enrichment, classes for single parents, childcare certification programs, early childhood educator apprenticeships and more. Serving more than 500 children from mostly low-income families, it has been at capacity with a waitlist for childcare and preschool services for several years.
As ECDC's modular building was never intended to be permanent, it has been planning for a larger facility for years to meet the needs of the community. After scaling the project back from three phases to two, ECDC successfully raised funds and built the first phase – a 12,605-square-foot facility with childcare classrooms, multipurpose space, a large commercial kitchen and administrative space, all of which were completed in 2022.
Even after scaling back the project, ECDC still faced a sizable gap in funding for the second phase. Without funding from the NMTC Program, ECDC would have had to further delay the project or find another location.
The new facility is a 7,049-square-foot addition that will be connected to the first phase building after the original modular building is demolished. It will include more childcare and preschool space, playrooms, a conference room, storage, outdoor playgrounds and parking. The new facility will allow ECDC to open more than 100 childcare opportunities for infants to children up to 5 years old, as well as expand programs for single parents and childcare certification.
Additionally, the new facility is expected to create 25 new, good-paying jobs. Many of the jobs are expected to be filled by single parents currently using the ECDC for childcare.
Through the NMTC Program, MoFi works with community leaders, businesses and nonprofits to identify projects that would have the greatest impact and best benefit from the tax credit, based on factors that include the provision of services in low-income areas, alignment with local development priorities and job creation. MoFi sells the tax credits to investors and puts the proceeds from the sale back into projects – projects that would otherwise not move forward without the tax credits.
Capital One purchased the New Markets Tax Credits for the ECDC project.
"The New Markets Tax Credit Program has been playing a vital role in funding projects across Wyoming that not only stimulate the economy and create jobs, but help some of the state's most vulnerable people," said Dave Glaser, President of MoFi. "Now, through our partnership with Capital One and ECDC, some of the state's youngest residents will have the building blocks they need to help them grow and succeed."
"Working with New Markets Tax Credits on creative ways to enrich local communities is some of the most important work that we do here at Capital One, and the ECDC project is a shining example," said Doug Field, Director of Tax Credit Finance at Capital One. "With this next phase of development, ECDC will be able to see through its vision of meaningfully serving hundreds of local children and families, and Capital One is proud to support a project that is an investment in the community both now and for future generations."
About New Markets Tax Credits
Since the NMTC Program was established in 2000, it has brought in upward of $100 million into local communities and created more than 1,000 jobs for Wyoming residents through eight projects across the state.
Many communities, businesses and nonprofits are eligible for New Markets Tax Credit financing. MoFi's NMTC projects in Wyoming include the Northern Arapaho Tribe's Wind River Cares Clinic and Red Wolf Child Care Center in Riverton, which was completed in 2019. Others include expansions at Ivinson Memorial Hospital and WyoTech in Laramie and a new Cobblestone Hotel & Suites in Torrington.
The program remains active, thanks to several extensions, but is currently set to expire in 2025. In February, the U.S. Senate introduced the New Markets Tax Credit Extension Act of 2023, which would make the program a permanent part of the tax code.
About MoFi
MoFi is a nonprofit Community Development Financial Institution (CDFI). Since 1986, MoFi has provided financing and business consulting to disadvantaged entrepreneurs and business owners, enriching their lives and strengthening their local communities. MoFi operates across Montana, Idaho, Wyoming, Utah, Eastern Washington and Eastern Oregon with offices in Missoula, Bozeman, Boise and Salt Lake City. Learn more at https://www.mofi.org/.
Copyright 2023 KGWN. All rights reserved.