A day in the life of an IRS Special Agent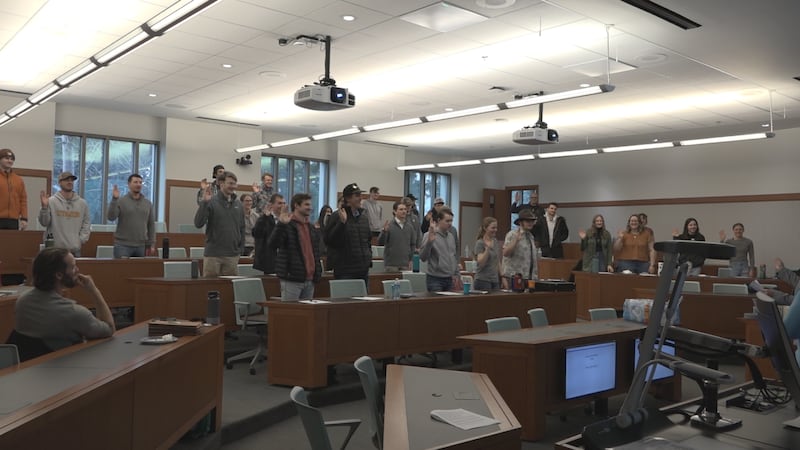 Published: Mar. 31, 2023 at 4:08 PM CDT
LARAMIE, Wyo. (Wyoming News Now) - University of Wyoming students got a firsthand look at life behind the badge during the Internal Revenue Service (IRS) Citizen Academy, a simulation experience providing both mentorship and education for students looking for a possible career as an IRS Criminal Investigation (IRS-CI) special agent. The more than two-decade-old program, previously known as the Adrian Project, was co-hosted by the Texas A&M University-Corpus Christi College of Business (COB), the TAMU-CC College of Liberal Arts, and the IRS-CI.
During the five-hour simulation event held at UW, 30 students from different disciplines learned the ins and outs of an investigation and how to track illicit money from the crime to the criminal.
Students began the day by taking an oath of office before being assigned their official case study. They then worked through the criminal investigation process alongside IRS-CI special agents and learned how to obtain a search warrant, analyze evidence, arrest a suspect, and present their case in a court of law.
"Students don't have an idea that these types of jobs exist so when we can partner with the IRS criminal investigations expose students to a different career path that can have that's really beneficial to opening up their world," said Mac Festa an Assistant Professor at UW.
Special agents investigate financial crime, emphasizing traditional tax crimes, along with cases involving counterterrorism, public corruption, human trafficking, drugs, and complex money laundering violations. IRS-CI is the only agency with the authority to recommend prosecution for federal tax crimes.
Supervisory Special Agent James Marcy said, "We're leaving the university today with thirty students that didn't know anything about being a federal agent and it's a great feeling for us that they know out in the community, that they've never really heard of us before what contributions we're giving our communities each and every day in law enforcement".
Copyright 2023 KGWN. All rights reserved.