Most WYDOT District 2 construction projects will reopen to traffic before 2023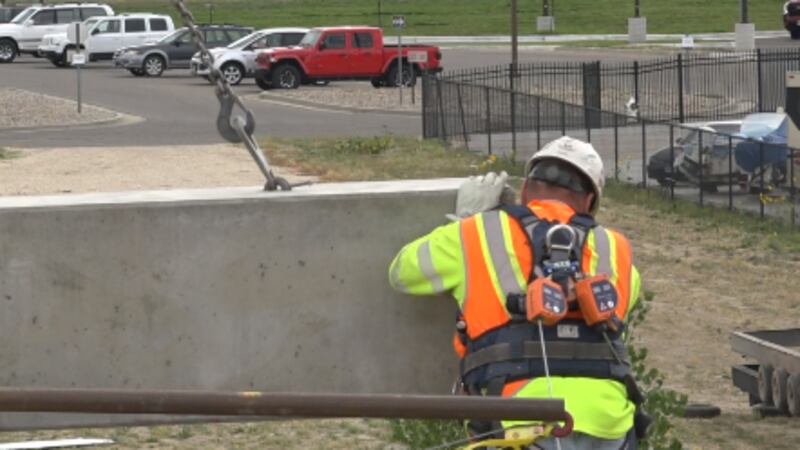 Published: Sep. 15, 2022 at 11:41 AM CDT
CASPER, Wyo. (Wyoming News Now) - If you've driven out of Casper, you can't avoid construction projects on the highway.
According to the Wyoming Department of Transportation (WYDOT) District 2, most of the projects in the area are set to reopen before the end of the year. Four projects in the region have additional work scheduled for 20-23.
In Casper, the Walsh Drive bridge project is hard to miss. While the project won't be finished until 20-23, it will open to traffic before the end of 20-22.
WYDOT recognizes the impacts the projects have on people during their commutes but says the work is necessary.
"We thank you for being patient with us and you know we're not doing this to cause you grief in the morning or afternoon we're doing this to make the roads better and safer so and as most people know a lot of the ones we're doing really need that help," said WYDOT District 2 Public Relations Specialist Jeff Goetz.
WYDOT District 2 Project Review:
I-25 Glendo Marginal: Paving southbound lanes began mid-September. Expected to reopen to traffic in October.
I-25 Douglas Marginal Bridge and Girders: Southbound lane bridge work is nearly complete. Grading/sloping guardrail replacement continues. Expected to reopen to traffic in November. Minor work off the roadway will be ongoing over winter. Northbound lanes bridge work begins in the spring of 2023.
I-25 Horse Ranch Creek section: Approach slab work and Class II repair finishing at bridges. Asphalt milling and paving are nearing completion. Major work should be completed by the end of September.
I-25 over Walsh Drive: Bridge replacement on schedule. Concrete deck work is mostly complete. Concrete pavement work has begun approaching the bridge. Work will continue over winter. Anticipate opening to traffic by the end of 2022.
I-25 Sign Replacement Various Locations: Locations between Douglas and Casper completed.
WYO 254 Salt Creek Highway Bridge Rehabilitation: In-place bridge forms installed. One vehicle crash on Sept. 8 damaged forms and other components. Bridge Department to inspect. Completion is delayed indefinitely. Other bridges under Project Number B22002 are completed or work ending for the winter season.
District 2 Contract Patching Various Locations: All paving in the northern portion of the district has been completed. In the southern portion, U.S. 85 patching has been completed in Niobrara County. Wheatland I-25 Business Loop job will begin later but is planned for completion by the end of October.
U.S. 20 Orin Jct. to Lost Springs Rehabilitation: Remaining work to be completed in 2023.
U.S. 26 Guernsey to Ft. Laramie Bridge Rehabilitation: Paving complete. Other major road work completed. Return to traffic by the end of September.
US 287/WYO 789 Jeffrey City West Overlay and Chip Seal: Aggregate crushing underway. Milling is scheduled for mid-September with pavement overlay in October. Chip seal work is scheduled for spring 2023.
WYO 34 Bosler to Wheatland Overlay and Chip Seal: Aggregate processing and paving in October. Chip seal work is scheduled for 2023.
WYO 59 Highland Loop Turn Lane: Roadwork complete. Cleanup work and fencing nearing completion.
Natrona County CR 106 Bridge Rehabilitation: Completing final details.
Copyright 2022 KGWN. All rights reserved.