Meet Your Candidates: Laramie County Sheriff
Three Republicans are competing to win the party nomination for Laramie County Sheriff.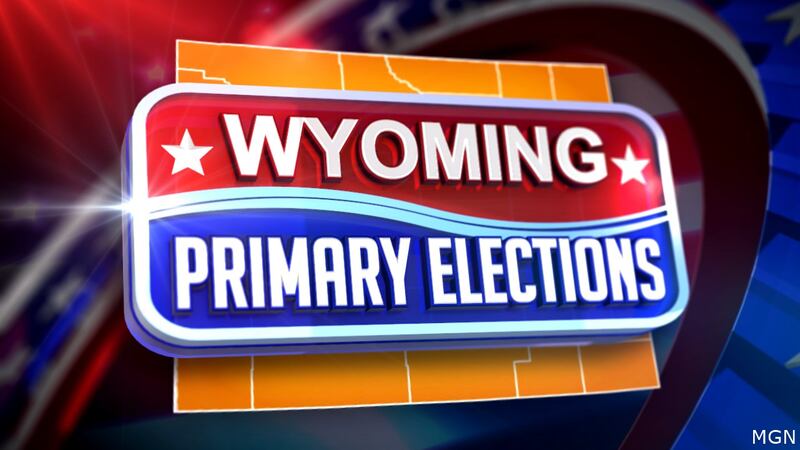 Published: Jul. 22, 2022 at 11:30 AM CDT
CHEYENNE, Wyo. (Wyoming News Now) - We reached out to all three Republican candidates who have filed to become a candidate for Laramie County Sheriff. Below are the candidates running who responded to our request. The information below is written by the candidates and unedited by Wyoming News Now.
Democrat Jess Fresquez has also filed to run. She does not face a primary challenger.
NAME: Don Hollingshead
AGE: 55
OCCUPATION: I am currently the Detention Captain of the Laramie County Sheriff's Office. I have been with the Sheriff's Office for 27 years in most positions.
POLITICAL EXPERIENCE: While I have a lot of experience working in the agency and in the community with elected officials, I do not have experience running for office.
HOW LONG HAVE YOU LIVED IN LARAMIE COUNTY? I have lived in Laramie County my entire life. I am a third-generation resident of Laramie County.
WHY ARE YOU RUNNING? I am running for Sheriff because I love this agency and the citizens of Laramie County and believe this community needs a leader with the experience and knowledge of not only this agency but how the county operates. With the many challenges facing Laramie County, the Sheriff's Department needs tested leader; a leader who knows how to overcome adversity as in the case of the global pandemic and how it affected the jail, as well as a leader who has the empathy and skill to find ways to better assist our communities growing mental health and addiction issues.
I am well versed in all positions as I have worked in most of them therefore I know almost all aspects of the Sheriff's Department. For all these reasons and more, I feel I am the best candidate to lead Laramie County into the future.
WHAT IS LARAMIE COUNTY'S BIGGEST CHALLENGE? I believe the greatest challenges facing Laramie County are drug addiction and mental health, both of which are on the rise and go hand-in-hand as the vast majority of people with mental illness utilize drugs to help cope with their condition. By tackling the mental health and drug addiction issues head on, crime rates will be positively affected as well.
ADDITIONAL INFORMATION:
I invite everyone to review my personal information and professional credentials on my campaign website at donhollingsheadforsheriff.com and visit our Facebook page at DonHollingsheadForSheriff.
What I feel is important for everyone to know is that I have over 27 years of experience with the Laramie County Sheriff's office and have worked in just about every position. My current role as Detention Captain makes me the only candidate, among those running for this important position, who can say they have relevant and "recent" experience running a detention facility. This includes overseeing all jail functions during the global pandemic.
My pledge to the citizens of Laramie County is to defend and protect each one of them from government overreach and ensure rights guaranteed by the United States and Wyoming Constitutions, including their Second Amendment rights, are not trampled on. I am the only candidate who for decades has volunteered with various nonprofit and public service organizations to include Kiwanis, Safe Harbor Children's Justice Center, Special Friends, Special Olympics, and my church's elders team and security team, as well as many others. My goal in all that I have done and continue to do is to make Laramie County a safe and welcoming place to live and raise a family. None of the other candidates can say they have played an active role in improving Laramie County to the degree that I have.
Now that I have secured raises and fair market pay for the sworn staff, once again making the Sheriff's Office competitive with the surrounding agencies, my goal is to as quickly as possible fill the many open positions so we may better serve all citizens of Laramie County to include the rural communities.
My only request to the citizens of Laramie County is for them to ask the hard questions of all candidates and then do their research to ensure the information given to them is accurate. I welcome all Laramie County residents to visit my campaign Facebook page and website and ask me any questions you may have pertaining to my candidacy.
NAME: Brian Kozak
AGE: 58
OCCUPATION: Chief of Police
POLITICAL EXPERIENCE: Enthusiastic law enforcement leader with 35 years of police experience (25 years in a command position); a proven leader who engages the community and inspires employees to rediscover their mission.
Putting experience to work for you:
Cheyenne Chief of Police – 11 years
Lowest employee turnover rate in policing

Lowest crime in Cheyenne's history
·Avon, CO Chief of Police – 4 years
Achieved national accreditation

Earned the National Human Rights & Community Policing Award
Mesa, AZ Police Commander – 20 years (Nationally accredited agency)
Jail Operations, Gang Investigations, Media Relations, Hiring and Recruiting, Homeland Security, Patrol, Traffic/DUI Enforcement
Higher education for challenging times:
Master's degree in Education

Bachelor's degree in Business

Northwestern University Police Staff and Command Graduate

University of Arkansas Rural Law Enforcement Executive Graduate

Force Science Use of Force Expert
HOW LONG HAVE YOU LIVED IN LARAMIE COUNTY? 13 years
WHY ARE YOU RUNNING? As chief of police, I saw many opportunities with the Laramie County Sheriff's Office, which if cultivated, would help the employees reach their potential in serving our community. We have three goals:
1. Reconnect with residents and businesses to fight crime
Implement community outreach programs and form task forces to go after criminals to lower record-high crime
2. Invest in the employees
Implement professional leadership while focusing on employee development, retention, and recruiting

Restructure jail operations to lower recidivism

Implement drug addiction treatment programming and streamline operations to become more efficient and safer
WHAT IS LARAMIE COUNTY'S BIGGEST CHALLENGE? Fifty (50) employees have walked off the job and a survey showed that 62% of the remaining employees are looking for other jobs. The employees report a toxic leadership culture is the cause for poor morale. The agency is in critical condition and needs a proven leader to fix it. Brian Kozak has experience in creating positive leadership cultures with two police departments; they are now successful, transparent, and engaged with their communities. In 2021, we had the highest rate of burglary and auto theft in our history. This spike in crime was partly due to the jail administration's Covid 19 policy to close to property and drug offenders. Brian Kozak will keep the jail open for criminals and he will implement drug treatment programming, which is the root cause of property crime.
ADDITIONAL INFORMATION: Brian Kozak will always place public safety before politics. Learn more at www.BrianKozak.com and www.Facebook/KozakForSheriff
NAME: Boyd Wrede
AGE:53
OCCUPATION: Cheyenne Police Department Retired
POLITICAL EXPERIENCE: None
HOW LONG HAVE YOU LIVED IN LARAMIE COUNTY? 53 years
WHY ARE YOU RUNNING? I am running for Sheriff to improve the safety of our county and improve the working conditions at the Sheriff's Office.
WHAT IS LARAMIE COUNTY'S BIGGEST CHALLENGE? Currently the biggest challenge at the Sheriff's Office is man power which is directly affecting the safety of our community
ADDITIONAL INFORMATION:
I am the 5th generation of my family to make Laramie County my home. My wife is also a Laramie County native and I have 2 adult children who also live and work in Laramie County. I was at the Cheyenne Police Department for 21 years. I was on the on the Bomb Squad for 18 years and the Bomb Squad commander for 8 years. I spent 19 years on the Mounted Unit, in charge of it for most of that time. I trained in Ottawa Canada with the Royal Canadian Mounted Police. I worked with all federal agencies and the Military for explosive investigations. I worked Executive protection with the Secret Service, I served on the Fugitive Task Force with US Marshall's. I was a Patrol Sgt for 8 Years and was in Detectives for 4 years.
Copyright 2022 Wyoming News Now. All rights reserved.