Record High Temperatures Today Followed by a Hot Sunday with Weather Returning
Published: Jul. 9, 2022 at 8:32 PM CDT
CHEYENNE, Wyo. (Wyoming News Now) - High temperatures were either tied or broken in Chadron, Cheyenne, Sidney, Casper and Yellowstone today. Many other locations fell just short of their records. There was no weather or hardly any clouds today to shield us from the sun. Winds were breezy in the western half of the state nearing 30mph in may locations. Tonight's low temperatures will be from the mid 60s to the upper 50s for the viewing area. Sunday, high temperatures will heat up again but average 3 to 5 degrees cooler than Saturday for some relief. Wyoming will also return to the more common summer weather pattern as afternoon thunderstorms will develop in the southeast and northeast part of the state. Near Cheyenne, showers and storms will develop in the afternoon and strengthen as they move northeast into the Nebraska panhandle. Near sunset, northeast Wyoming will see storms pick-up as they move toward Sundance and South Dakota. These storms are capable of producing high winds and hail as head eastward. Breezy winds will return Sunday as a weak cold front moves through the state though gusts won't exceed 30 mph as it passes. Winds will shift from the northwest to bring cooler air overnight and set up the high temperature drop Monday.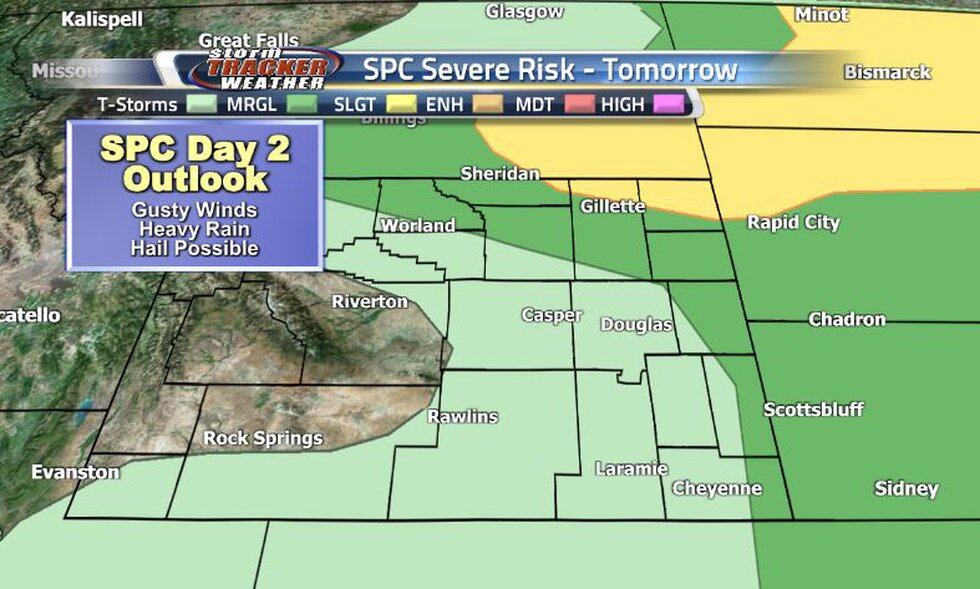 The extended forecast will be more active in the eastern third of Wyoming this week bringing back the predominant summer pattern. Monday and Tuesday is pleasant temperature-wise but by Wednesday we'll be back in the 90s or higher. No record high temperatures forecasted at this point but the summer heat is upon us.
Copyright 2022 Wyoming News Now. All rights reserved.