Warm Today, Slight Cool Down Tomorrow
22 September 2021
Updated: Sep. 22, 2021 at 7:00 PM CDT
CHEYENNE, Wyo. (Wyoming News Now) - Temperatures certainly warmed up quickly now that the cold front from the weekend is gone. Conditions across the eastern side of the state got up into the upper 70s and lower 80s while the central and western regions stayed in the lower 70s. Certainly nothing to complain about, but they are above average for this time of year. One to complain about is the smoke coming in from the west on our forecast map.
While much of it is going to be rather light, some heavy pockets will sneak in most likely prompting the National Weather Service to issue a few air quality warnings. Another cold front is starting to make it's way into the state right now and will likely come through overnight and into tomorrow. This will bring in some increased cloud cover but very little in terms of rain for most areas. Temperatures will drop slightly to more seasonable temperatures, but as the front stalls out, it'll warm right back up into those lower 80s going into the weekend.
Tonight will stay on the slightly above average side with the eastern regions hitting those upper 40s and lower 50s with the western regions hitting the middle 30s. Clouds will begin building overnight as the front moves through and we can expect some breezy conditions as a result. Tomorrow, very nice outside with seasonable temperatures and party cloudy skies. Places in northern Wyoming can expect breezy conditions, but nothing out of the ordinary. Like I mentioned before, it'll warm right back up going into the weekend. Luckily, there doesn't seem to be a whole lot of rain in the forecast.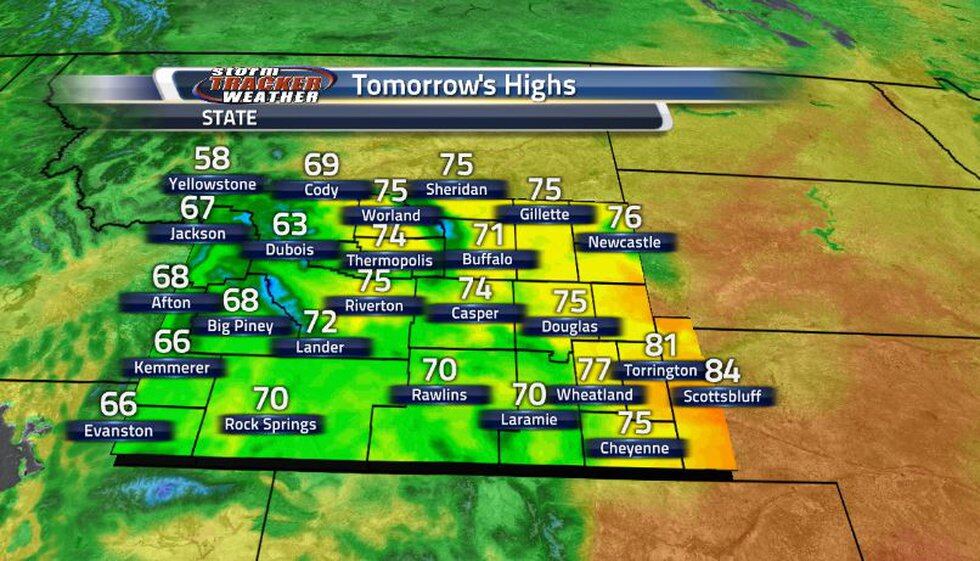 Copyright 2021 Wyoming News Now. All rights reserved.