Updated: Sep. 15, 2021 at 1:05 PM CDT
CHEYENNE, Wyo. (Wyoming News Now) -
Lots of clear and sunny skies today. The radar and satellite should zero chance of having any rain or heavy clouds moving through the entire state. Wind speeds are going to be picking up this afternoon. The wind speeds are forecast to be anywhere from the teens to the twenties in miles per hour. Overnight, these wind speeds are going to calm back down. By tomorrow afternoon, wind speeds will pick back up and bring in heavier cloud coverage to the southeastern corner.
Heavier smoke is going to being moving back in, but it will do so slowly. Today, there is a heavier pocket of smoke near Sheridan and Gillette. Tomorrow afternoon, the northwestern corner will be seeing that moderately heavy smoke once again. And by Friday morning, most of the western border will see this moderately heavy smoke. The rest of the state will remain in those very light smoke conditions.
There is a broad area of the state under Fire Weather Warnings today. The southwestern corner of the state has a Fire Weather Warning in effect until Thursday night at 8PM. The rest of the state indicated in pink is a Fire Weather Warning in effect until Wednesday (today) at 8PM.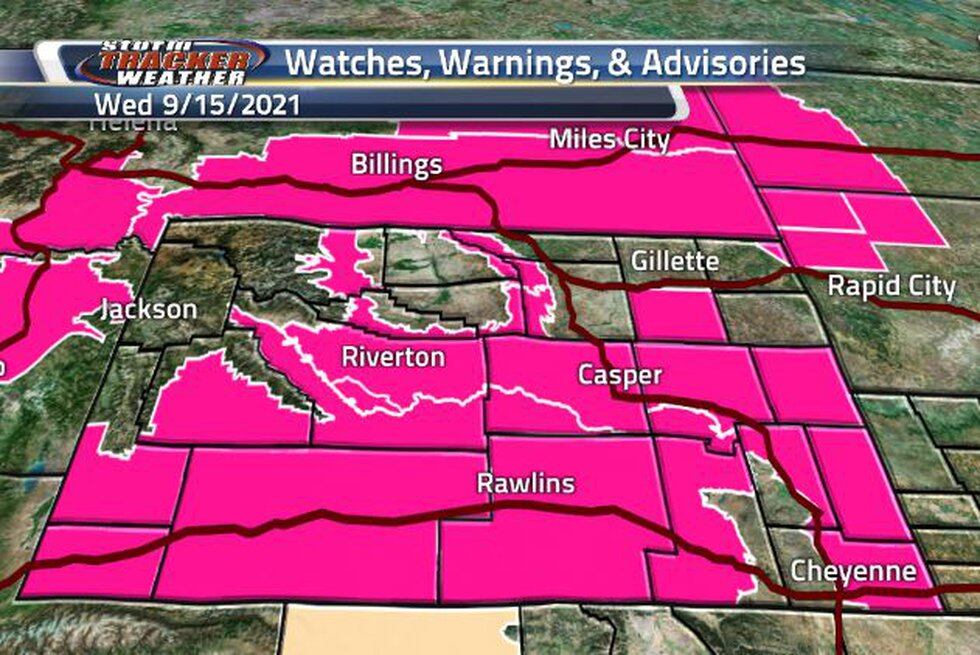 Temperatures today have warmed back up compared to yesterday. High temperatures are now in the 80s for the northeastern corner and the eastern border. A few cities are also seeing temperatures in the lower 90s along the most southeastern border. Tonight, the temperatures will cool into the 40s and 50s once again. Tomorrow's high temperatures are forecast to look a lot like today's high temperatures. These temperatures will be in the 70s and 80s, with lower 90 degree temperatures in the southeastern corner.
Copyright 2021 Wyoming News Now. All rights reserved.