Relief on the way after seasonably hot & smoky conditions
Updated: Sep. 11, 2021 at 7:57 PM CDT
CHEYENNE, Wyo. (Wyoming News Now) - Today, the state saw slightly cooler temperatures than we saw yesterday, but it was still a hot one. In fact, some parts of the state broke records for the high, including Cheyenne which was a high of 89, beating the record it set in 1954 by a degree.
However, the heavy smoke that has been sitting over our state will start to lighten, settling over the northern border before eventually dispersing come Monday morning and we'll start to see a little bit clearer skies heading into the work week.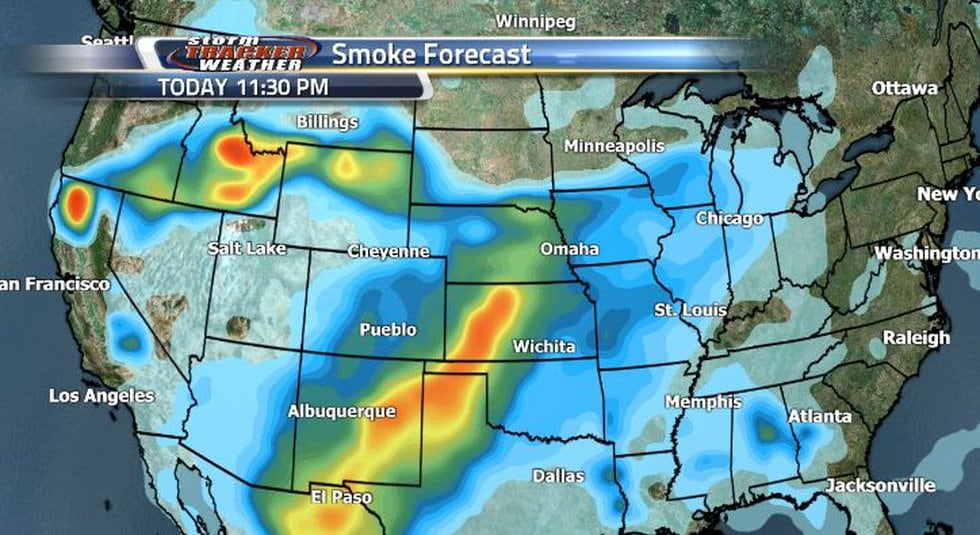 Due to that smoke making a retreat, we only are seeing air quality alerts along that northern border over Riverton and around Sheridan. The other alert that we really only have to worry about as well is that red flag warning over Cheyenne and Scottsbluff, due to the high temperatures and windy conditions. Our fire outlook today is elevated for the southern half of the state, but critical in that southeastern corner.
Thankfully, we are going to be seeing some cooler temperatures and rain heading our way to calm down those fire alerts. A cold front is coming from the northeast and that will cool us down and return us to some more seasonable temperatures. The short-wave troughs are the elements to look out for as they will bring our gusty winds and will provide us with some thunderstorms.
Earlier this afternoon, Rock Springs saw some thunderstorms but those tapered off as they came over the mountains. There will be some morning and afternoon shower potential for parts of the state, but some larger systems from the west will be more noticeable into those overnight hours on Sunday and into early Monday morning.
Because of these storms, the SPC has issued a general thunderstorm risk for most of the state with marginal risks in the southeastern and southwestern corners where we will mostly see strong winds and a slight chance for hail in the core of these storms.
We saw some high winds today. But, those winds show where these storms are moving from and how fast they are moving. Tonight, the southeastern corner will see lots of activity from potential thunderstorms to increased winds. Those will die down in the morning and pick up again into the evening, bringing in those overnight thunderstorms, before dying down again into the afternoon.
Our overnight lows will be a bit cooler than last night and we'll see mostly 50s, some 40s and even several 30s sprinkled in. Tomorrow, we'll be a couple degrees cooler than we were today as that cold front moves in and those thunderstorms all play a role in bringing temperatures down. The extended forecasts show those potential for showers and thunderstorms in the next couple of days, and also some more seasonable temperatures for the coming week.
Copyright 2021 Wyoming News Now. All rights reserved.