Another Hot And Sunny Day
Updated: Sep. 9, 2021 at 2:00 PM CDT
CHEYENNE, Wyo. (Wyoming News Now) -
This week has been a great one as far as the weather is concerned. There really has been nothing but sunshine all week, with the exception of a few clouds. Just a lot of beautiful weather to enjoy the outdoors.
The morning started off very clear when looking at the radar. A the day has continued, a few light clouds have entered into the southwestern corner and a few moving along the northern border. Besides those two areas, the rest of the state remains clear of clouds and any rain chances.
A lot of the heavy smoke remains in the northeastern corner and along the eastern border today. It will remain there into the overnight hours and going into early Friday morning. By Friday afternoon, the heaviest of the smoke should be in the most northeastern corner, with a heavy pocket in Sheridan and Gillette. Moderately heavy smoke will remain in the southeast. Early Saturday morning, the smoky conditions are forecast to become much lighter with a new system beginning to move through.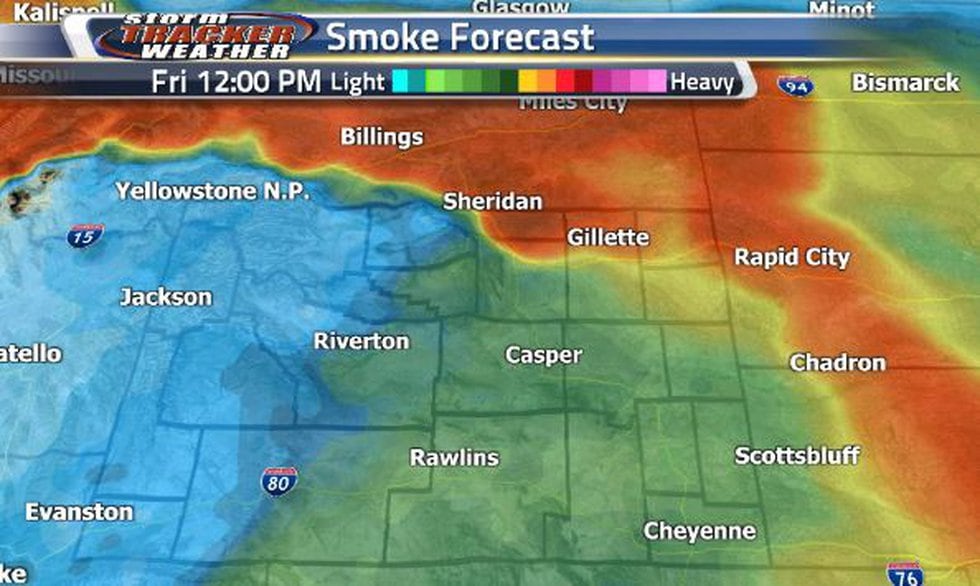 Of course with the smoke comes the Air Quality Warnings. Those warnings are continuing statewide today. The Air Quality Warnings today are in effect until Thursday (today) at 1PM, though they are likely to be extended further in time. There are also two areas of Fire Weather Warnings today, as most of the state is in an Elevated Fire Risk. The northwestern corner is under that area of Fire Weather Warning until Thursday (today) at 8PM. The northeastern corner is under that area of Fire Weather Warning until Thursday (today) at 9PM.
Going through the rest of today, wind speeds will continue to pick up into the middle teens. As the late night/ overnight hours approach, wind speeds will calm back down below double digits. Friday morning, clouds are expected to start moving into the eastern half of the state. These clouds will stick around through the evening hours of tomorrow.
Temperatures have increased again. Yesterday, there was a slight break with the temperatures dropped a hair. But here we are again with the hot stuff. High temperatures today are ranging from the 80s to the upper 90s. The hottest of these temperatures rest in the northeastern corner and along the eastern border. Tonight, we will cool again into the 40s and 50s. Some areas may even see low temperatures tonight in the 60s, which is above average. Tomorrow's temperatures are going to look a lot like today's, with some areas even being a little warmer. Places like Torrington and Scottsbluff are forecast to reach high temperatures within triple digits again.
Copyright 2021 Wyoming News Now. All rights reserved.