Canine Companions hopes PAWS Act brings more awareness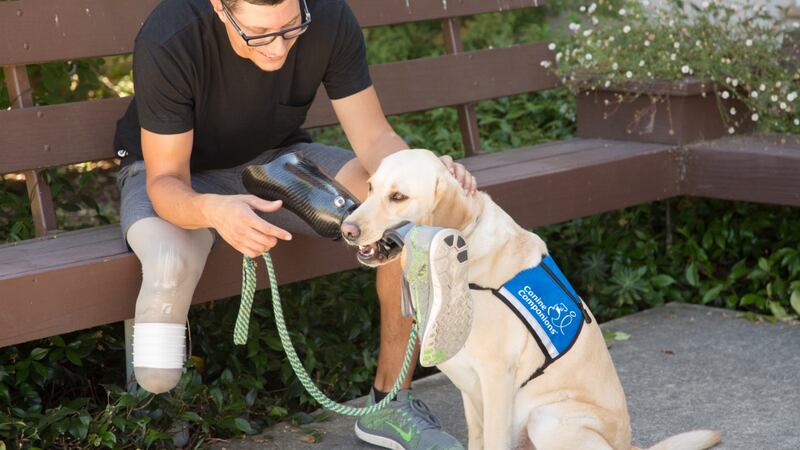 Published: Sep. 8, 2021 at 12:55 PM CDT
CASPER, Wyo. (Wyoming News Now) - Last month, President Joe Biden signed the Puppies Assisting Wounded Service-Members, or PAWS Act. The PAWS Act allows for the Department of Veteran Affairs to Provide Service Dogs to veterans with PTSD. For one organization, this brings a strong hope for more awareness.
"We are advocating for it. You know, veterans are so near and dear to our heart. We have been serving veterans since our founding, veterans with physical disabilities, but more recently starting placing our service dogs with veterans with post traumatic stress disorder, and that has just been a wonderful program and we've seen so many incredible results," said Michelle Williams, the Public Relations and Marketing Coordinator for Canine Companions.
Canine Companions is a national non-profit that provides service dogs to adults, veterans, and children with disabilities free of charge. They have been advocating for the PAWS Act and are excited to work with VA offices. Canine Companions starts training dogs at just eight weeks old. The dogs are taught how to do skills and services that would benefit the individual they are working with. The organization currently has 400 people on the wait list, and hopes this new opportunity will allow them to reach more veterans.
"We hope that it will bring awareness of these incredible dogs and the need that so many of our veterans have, and also make them more accessible to our veterans to get benefits through the VA to help them receive these incredible dogs," said Williams.
Canine Companions works with their highly-skilled service dogs to ensure they can help those in need with different task and situations.
Copyright 2021 Wyoming News Now. All rights reserved.