Dry and Hot to Wet and Cooler
Updated: Sep. 1, 2021 at 1:45 PM CDT
CHEYENNE, Wyo. (Wyoming News Now) -
Smoke has been a consistent issue in the forecast all summer. It has been heavy and present, causing may problems for those who are sensitive. The smoke is not going to be going away anytime soon, with the continued wildfires in the west. There are moments where there are signs of relief from the smoke. The system of rain that will moving through the state will allow the smoke conditions to lighten slightly. But as the rain and clouds are cleared away on Thursday, the smoke will return to its heavy nature.
With all of the smoke back in the Cowboy State lately, Air Quality Warnings continue to be part of the daily forecasts. Today, there is a broad region of Air Quality Warnings. This broad area is the entire state of Wyoming. These warnings are in effect until 1PM on Wednesday (today).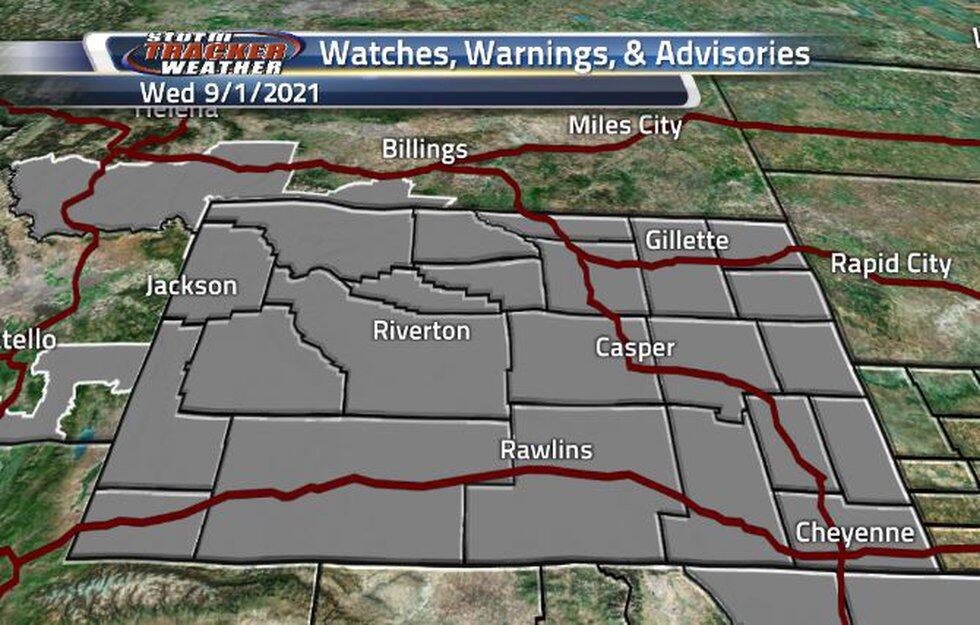 A cold front is moving through the state today. Moving along with it is a system of rain. This system looks to only be made up of showers. The Storm Prediction Center has the state under a General Thunderstorm Risk for today. This means that gusty winds and heavy rain are likely with the showers that move through tonight.
Temperatures today are much cooler than those yesterday and the day before. High temperatures today are ranging in the 70s and 80s across the state. Tonight, the low temperatures will cool into the 40s and 50s again. Tomorrow's high temperatures are looking a lot like today's. They will be cooler than the beginning of the week, within the 70 and 80 degree range.
Copyright 2021 Wyoming News Now. All rights reserved.