Thousands enjoy second day of Cheyenne Frontier Days Pancake Breakfast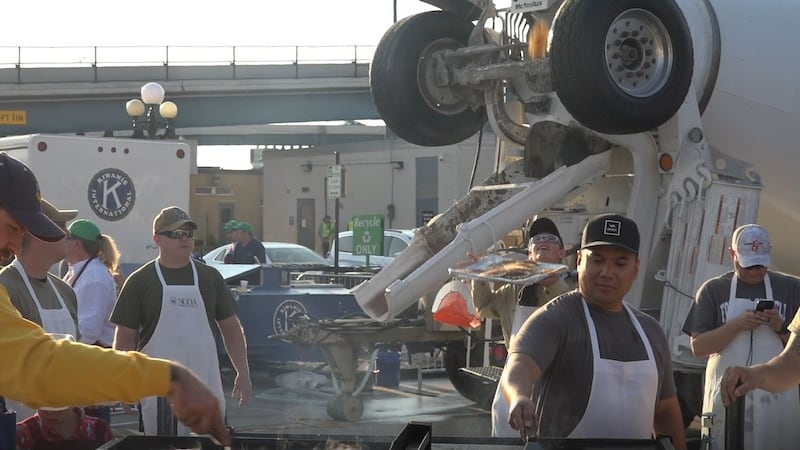 Published: Jul. 28, 2021 at 3:35 PM CDT
CHEYENNE, Wyo. (Wyoming News Now) - The Cheyenne Frontier Days Pancake Breakfast is a free breakfast that locals and visitors can enjoy three times during CFD week. At least a thousand people attended this morning, with many lining up more than an half hour before it began at 7 a.m.
"It takes a lot of volunteers to make an operation like this work. So we have our Kiwanis Club, and we get help from the CFD Indian Committee, as well as the volunteers out from the community. So it's a big operation and just a lot of fun to be involved with," said Kiwanis Club of Cheyenne Pancake Breakfast Chair, Renee Brower.
A big operation is right, and with potentially thousands of people attending, the crews always have to be on their game. Brower said there is no need for anyone to worry about them running out of ingredients, and they are always hoping for record crowds.
"We've ordered 6,250 pounds of batter mix so I think we have enough to feed everyone that wants a pancake."
The Kiwanis Club of Cheyenne has been a part of the Pancake Breakfast since 1968. Many of the volunteers and members at the event have been a part of it for years.
"I don't think I've ever missed a pancake day. Last year not being able to do it was kind of disappointing, so I'm glad we're able to do it this year," said Kiwanis Club of Cheyenne Past President, Nick Panopoulos.
One of the main goals is making sure nobody waits in line longer than 20 minutes. For those who want to test that, the final Pancake Breakfast will be on Friday beginning at 7 a.m. and going until 9 a.m.
Copyright 2021 Wyoming News Now. All rights reserved.