Just A Few More Days
A Cool Down Is On The Horizon
Updated: Jul. 27, 2021 at 12:45 PM CDT
CHEYENNE, Wyo. (Wyoming News Now) -
This morning, the southeast corner was clear of cloud coverage and rain. Clouds were seen on the radar and satellite rotating around the state by entering into the southwest and rotating clockwise along the northern border. Now, the radar and satellite shows heavy cloud coverage along the western border and a few showers possibly dissipating in the most southwest corner.
Yesterday, Air Quality Warnings began entering back into the state. Today, those warnings have grown in size. These warnings take up the western half of the state, as well as the northern border. Though it looks like it could be several different warnings placed together, it is all one big Air Quality Warning. This warning is in effect until Tuesday (today) until 1PM, although expect it to be extended again.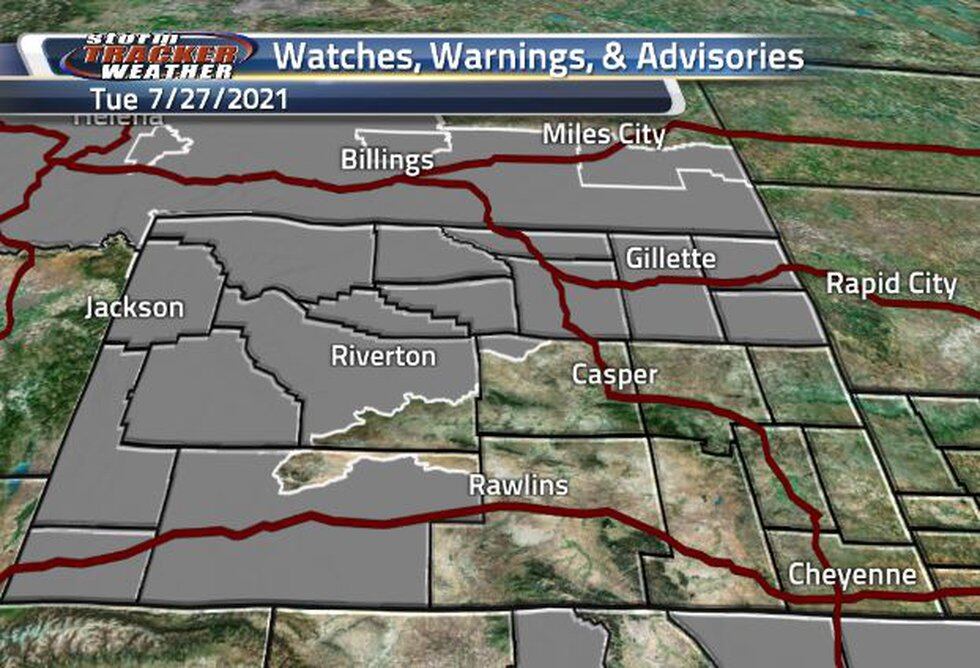 Temperatures today are H...O...T... HOT! Many cities are seeing high temperatures in the upper 90s and extending beyond the 100 degree mark. Places that are getting the hottest temperatures today reside in the northeastern corner and along the eastern border of the state. The west was able to find some luck within the clouds today that are helping to keep the western border in the 80s as high temperatures.
Tomorrow, the forecast shows for much of the state to feel slightly cooler than they will feel today. It is easy to describe the state as being split into different sections for tomorrow's high temperature forecast. The western border will continue to see temperatures in the 80s. The south and central part of the state will see high temperatures in the upper 80s to mid 90s. The north and central part will be in the mid and upper 90s. Though those temperatures are still hot, it will feel a whole lot better than greater than 100 degree temperatures. The eastern border will stay hot tomorrow, and will continue seeing temperatures at 100 degrees and greater. Cheyenne's high temperature for tomorrow will also increase by a few degrees to a high temperatures of 96 degrees.
Copyright 2021 Wyoming News Now. All rights reserved.