Fun Biz Concessions hopes to leave its mark at first Cheyenne Frontier Days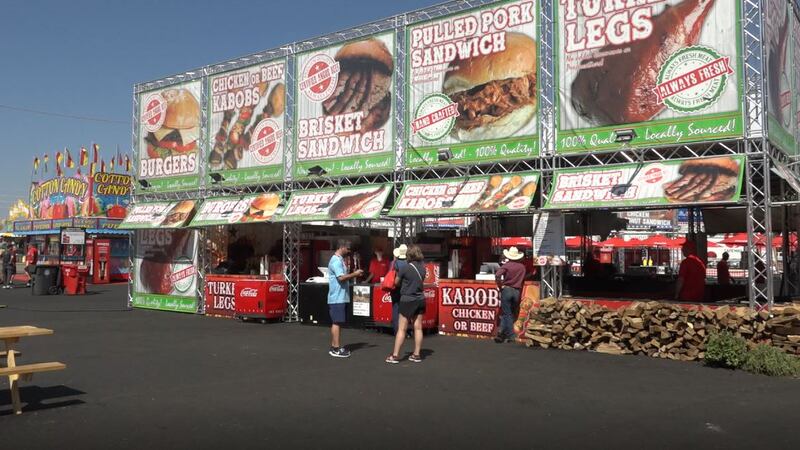 Published: Jul. 27, 2021 at 5:56 PM CDT
CHEYENNE, Wyo. (Wyoming News Now) - Cheyenne residents were introduced to Fun Biz Concessions Inc. at the Frontier Fun Food Festival in September of 2020. As the 125th Cheyenne Frontier Days hits its midway point, the company is excited about its debut.
Nate and Stephanie Janousek are the founders of Fun Biz Concessions. The concessions company has been involved in events all across the country, and usually has a handful of food stands at the events. It is running all food operations at CFD.
"For the first time now, they are here at Cheyenne Frontier Days and they are running all of the food. So either they have brought in incredible local eats, or like you see everywhere behind you, they have concepted, created, culinary designed, all of this is them and it is really amazing to be in the Fun Biz Food Court for the first year," said Fun Biz Concessions Community Director, Alex Shebar.
Shebar said they are excited to be a part of CFD, and with that excitement comes some unique items.
"This is a staple landmark event. So for us to be able to come in and add something to it is really important, and we really do want to elevate this. We want to make sure that when you're coming you have something that is as memorable as seeing the rodeo, as memorable as seeing Garth Brooks, we want the food to go wow this is phenomenal."
Shebar said some of the nontraditional offerings, like a fruity pebble fried shrimp poboy or the fried chicken donut sandwich, have already been a hit. He said not to worry though, there are plenty of traditional options for all attending.
Fun Biz Concessions hopes to be a part of the CFD tradition, for years to come.
Copyright 2021 Wyoming News Now. All rights reserved.