Rain Cools Us Down, For Now
By: Jordan Frazier
Published: Jul. 20, 2021 at 9:25 PM CDT
CHEYENNE, Wyo. (Wyoming News Now) - Scattered showers and storms began making their way through the state today from that system off to the west. Despite the rain, the fire weather warnings covering much of the northern and western regions of the state are still in effect until later this evening. The air quality warning to the southern border is also in effect until tomorrow morning.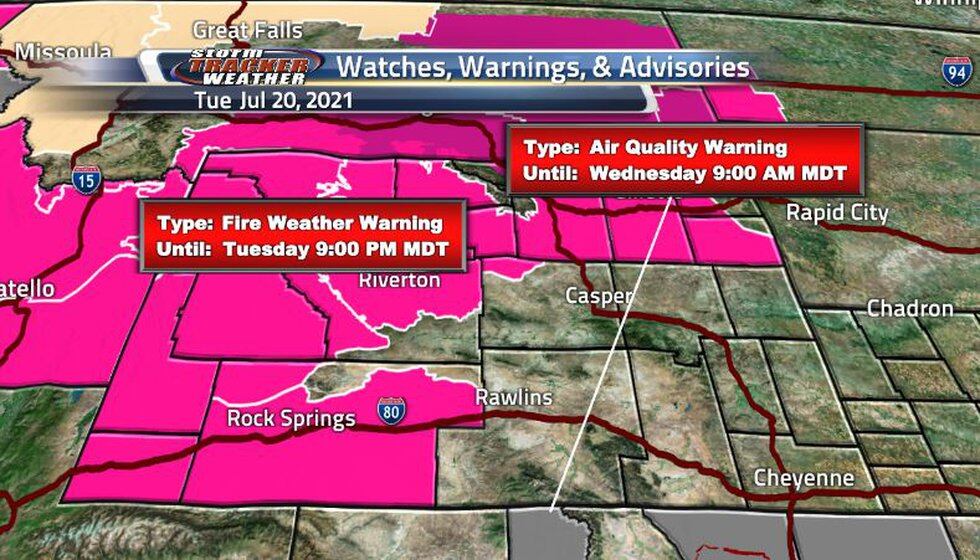 Our fire outlook is beginning to calm down for tomorrow as there is only the risk of dry thunderstorms in Yellowstone. The big story today is the rain as we have not seen a decent amount in a while, and it should be helping out significantly our heat and drought conditions. This is due to a low pressure system with two troughs sitting over much of the state. These will begin moving farther to the east bringing more rain to that side of the state. There is also a stationary front sitting over Idaho that will become a cold front and start moving toward Wyoming.
Eventually, this will make it's way through and bring us some cooler temperatures throughout the weekend. Winds are picking up, but only in the areas where we are seeing shower and thunderstorm activity. These showers will move out by the late evening, but expect them to return in the morning tomorrow, mostly on the eastern side of the state. Don't expect anything in terms of severe weather as the Storm Prediction Center only has the state under a general risk for the next day. For temperatures, tonight will be above average as the clouds won't allow us to cool off as much. Tomorrow, expect some fairly average, if not, warm temperatures. Nothing like the heat we saw yesterday thankfully.
Copyright 2021 Wyoming News Now. All rights reserved.