A University of Wyoming scientist is researching "indestructible" organism to stabilize vaccines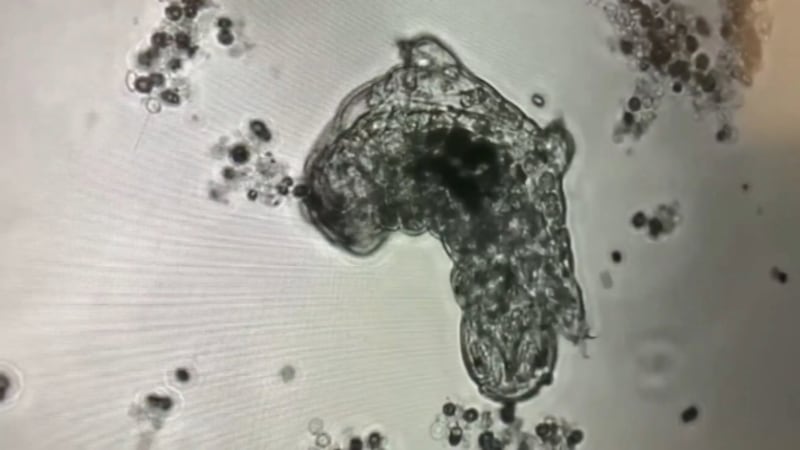 Published: Mar. 24, 2021 at 5:42 PM CDT
CHEYENNE, Wyo. (Wyoming News Now) - Thomas Boothby, Assistant Professor of the Molecular Biology Department at the University of Wyoming, is conducting extensive research on a unique organism that could impact the future of vaccine longevity and accessibility.
"Our idea to make vaccines more stable, but also more accessible to people in remote parts of the world, is to take the tricks that these organisms use to stabilize their cells and their cellular components, and learn how they do that, and apply those same tricks to things like vaccines," said Boothby.
The microscopic organisms are called tardigrades, or water bears. These water bears are near impossible to kill. They can survive being completely dried out, withstand heat far past the boiling point, be frozen above absolute zero (approximately -458 degrees Fahrenheit) and even survive in outer space for prolonged periods of time.
Boothby said the research lab has a partnership with NASA, and they intend to launch tardigrades into space in May.
Boothby said if they can isolate the characteristics of these tardigrades and apply them to vaccines, it can change the future of medicine.
Because vaccines, such as the COVID-19 Pfizer vaccine, can go bad if not stored in extremely frozen temperatures, many people do not have access to them. The freezers needed for vaccines are a technology not readily available world-wide.
When a virus is left untreated, it can mutate and combat the effectiveness of the current strain the vaccine is meant to treat. If this technology is developed, Boothby said it can be instrumental in creating more accessible vaccinations.
"So it is really important that we are able to develop technology to get this life-saving medicine to everybody everywhere; not just for their benefit, but for our benefit as well," Boothby said.
The research on tardigrades can go beyond vaccines. Boothby said it can be used to extend food source life, be studied for anti-aging research and can even be used to adapt technology to protect astronauts.
As for research progress, Boothby said the department is waiting on grant approval to be finalized before they move on to testing vaccine efficacy in the next phase.
Copyright 2021 Wyoming News Now. All rights reserved.