Lander bison rancher Josh Kirk sharing Wyoming experience across the country
He shared more about living primitively at the base of the Wind River Mountain Range
Published: Jul. 9, 2020 at 7:58 PM CDT
RIVERTON, Wyo. (Wyoming News Now) -
Josh Kirk has become a familiar face in Lander recently being known for his conservation efforts and primitive mountain man ways on the bison ranch at the base of the Wind River Mountain Range.
"So I'm originally from Georgia. I came to Wyoming to ranch bison. I grew up off grid, self-sufficient, living off the land, farm to table, that was my lifestyle. I've been a hunter, trapper, survivalist from the time I was born."
Now, Josh has become a familiar face not only in Lander, but in the whole United States. He was featured on season 9 of Mountain Men.
"So right now it's evident I have a lot of irons in the fire. I have a lot going on, it's an exciting time for me. Since the show has come out, it's creating a lot of opportunities. One of those opportunities is that it's given me more of a voice because of what I'm doing with conservation."
Josh has always dreamed of raising bison, and continuing to live in the primitive ways in which he was taught from childhood.
"And for me, to live the old lifestyle, to live the lifestyle of a mountain man, to ranch these bison, to protect them from predators, to keep them safe; and do that, and put food on the table, for me that's euphoria. I call it touching the earth."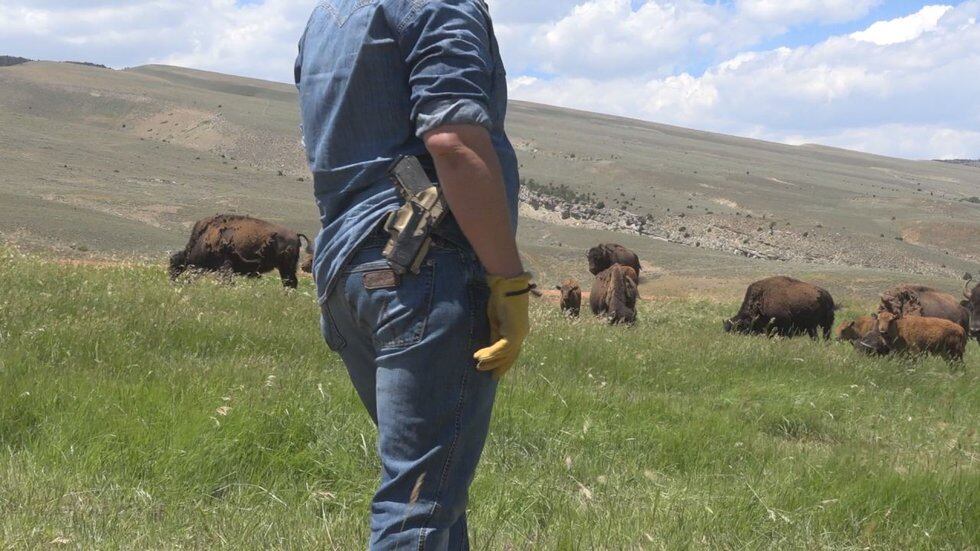 For him, modern-day conveniences like central air and television are not worth the price you pay to have them.
"But I have kind of a doctrine that I go by, one of my sayings is 'in the last 100 years, society as a whole has sold its soul for supply, demand, and a house on main St. And for what? We are trading our freedom for conveniences.'"
First and foremost, Josh is a conservationist. One way bison help benefit the land is by creating Buffalo Wallows, which occur when the bison try to roll over. Since they can't roll over all the way, their hump creates a dip in the ground.
"It creates a depression in the ground, and that depression becomes a moisture barrier. And so the grasses around that depression will be anywhere from 6 to 12 inches taller, So it's phenomenal for the ground, it's phenomenal for the grass."
Josh emphasizes the importance of respecting the indigenous bison, including the danger involved in being a bison rancher.
"We're raising complete all-natural bison. They are wild, they are not tamed. They will get you killed, they will get you hurt."
Lately, however, Josh has been touring around with his pet baby bison, named Custer Pendleton. He hopes to ride him when he gets bigger, but for now you can see him at many local events. If you'd like to meet Pendleton, he will be at Happy Days on Main St. in Riverton this Saturday July 11th from 4-8pm.
Copyright 2020 Wyoming News Now. All rights reserved.